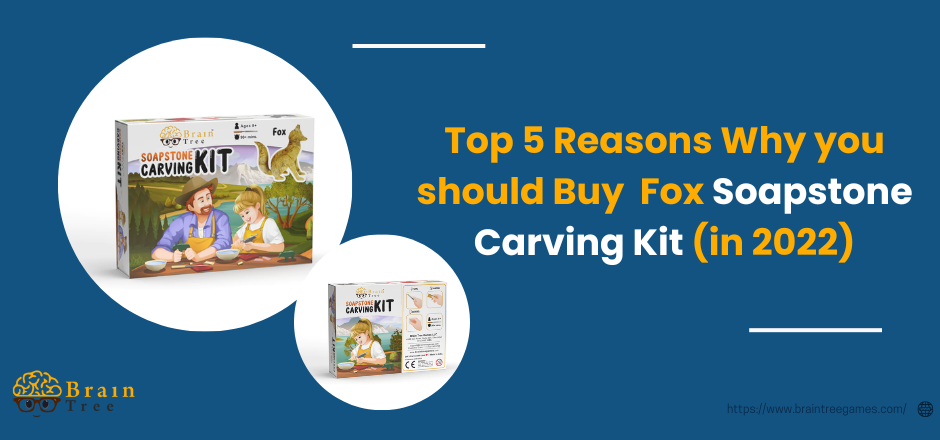 Top 5 Reasons Why you should Buy Fox Soapstone Carving Kit (in 2022)
Soapstone is a material that's been used for thousands of years in arts and crafts. It has a beautiful, soft texture that makes it ideal for carving with tools, while also being strong enough to withstand the rigors of daily use. 
In addition to soapstone carvings, you can use this kit to carve wood sculptures or other materials like wax or clay.
5 Reasons Why Fox Soapstone Carving Kit
This is the best craft kit that is available in the market today. It is capable of producing a great range of craft projects and it is a compilation of many extras. 
The additional items make it highly competitive amongst its other peers although the ultimate decision has to be based on individual preferences and requirements. 
The price level for this item is very competitive and well worth every dollar spent on it. There are no reasons why this kit should not be considered when thinking about buying one.
Here are the top 5 reasons why Fox Soapstone Carving Kit
1. It's Safe And Easy To Use
This fox soapstone carving kit is a great choice for hobbyists who enjoy carving, but are looking for something that's safe, easy to use, and won't take up too much of their time. 
The soapstone is soft enough that you don't have to worry about breaking any tools if you accidentally hit the stone with it. It also comes pre-cut in many different shapes, so you can start right away without having to spend hours trying to carve your own design.
2. It Comes With Quality Tools
A good carving kit should come with quality tools. Quality tools are important for several reasons. 
First, you want the tool to be comfortable to use. If it isn't comfortable, then you won't be able to carve as much as you would like and that defeats the purpose of getting a kit in the first place. 
Second, quality tools will help produce better results when carving soapstone because they have been designed specifically for this material and have been made from materials that are durable enough to last through many years of use without breaking down quickly or falling apart on their own accord. 
Thirdly and finally, since these kits are marketed towards beginners who might not know what kind of equipment they need yet it makes sense why most people don't want something cheap because knowing how long something lasts can save them money down the road by not having anything break prematurely or prematurely wear out
3. Adaptable For All Skill Levels
We have designed this product to be easy for both beginners and experts alike. Our kit makes it simple for kids, teens, and adults to pick up the craft without any special skills or training. 
The Fox Soapstone Carving Kit can be used by people with disabilities or limited mobility as well.
4. Versatile On Any Stone Project
Soapstone is an easy stone to carve. It's soft and malleable, so you can shape it with tools. 
Fox Soapstone Carving Kit comes with all you need to get started: the carving tool, Percut/Semi Shape Saopstone, A carving File which is Kids safe, Three different types of sandpaper, and enviromentally friendly Wax to Polish, A soft cloth to make the stone smooth and shiny, And a step by step carving intrusion manual which is very useful. The kit makes it easy for both beginner carvers and experienced carvers alike!
5. Free Instructional Videos are Available Online
This kit also comes with a free instructional video that you can view online. The video shows you how to use the Fox Soapstone Carving Kit, and it demonstrates how to carve a fox and a stone. 
With this information at your fingertips, learning how to carve is easier than ever before!
Fox Soapstone Carving Kit Makes Stone Carving Easy!
Fox Soapstone Carving Kit is one of the best kits that we have ever seen. It comes with everything you need to get started, including quality tools and materials. 
The stone itself is natural and safe to use, which makes it an ideal choice for beginners who want to learn how to carve stones.
There are many reasons why this kit stands out among other products on the market:
It's easy to use: This kit includes detailed instructions that show you step-by-step how to start carving your own masterpiece. All you need is some imagination!
It has high-quality tools: Our experts tested each tool in this kit before we decided on their final list of supplies (this was important because there are so many different kits available out there). We only chose those items that were high quality and would last for years without breaking down easily as some others might do after just one or two uses!
Conclusion
In conclusion, it's clear that Fox Soapstone Carving Kit is the best option for anyone who wants to get started with stone carving. Whether you're a beginner or an expert, this kit has everything you need to start making beautiful carvings right away!
You Can Read Also:-  https://www.braintreegames.com/blogs/jigsaw-puzzles/top-5-benefits-of-using-1000-piece-puzzles