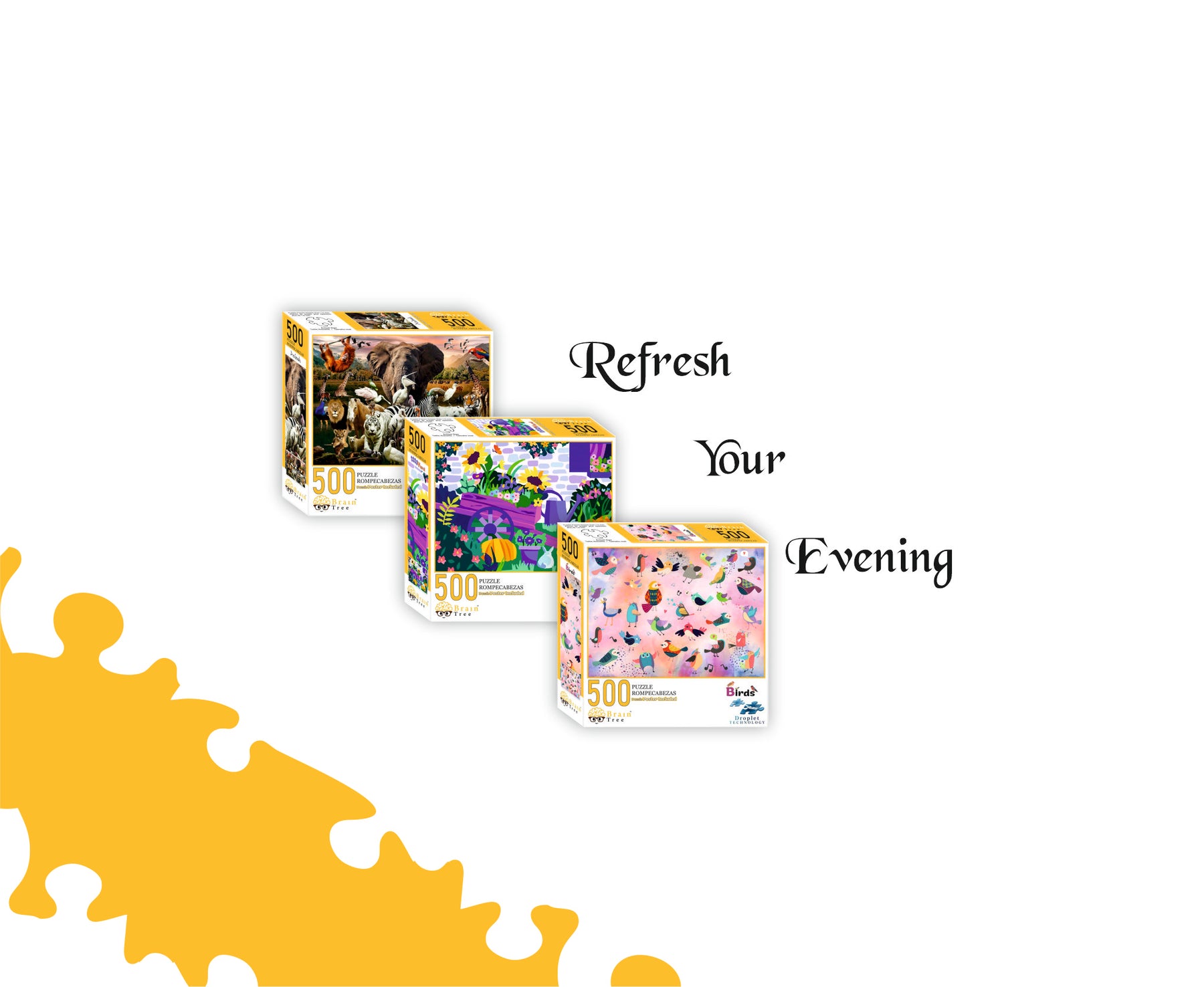 Authentic 500 Piece Jigsaw Puzzles from Brain Tree Games To Refresh Your Evening!
Everybody enjoys spending quality time with family and friends during their weekends and holidays. Everyone enjoys relaxing, having fun, and adding variety to their daily routine. An exceptional quality 500 piece puzzles can help them do so.
While the puzzle has numerous advantages, purchasing high-end 500 piece puzzles from a large manufacturer can place a strain on your monthly budget.

"Is there a way to get around the money issue and still receive the finest puzzle-solving experience for the least amount of money?" Before making a financial decision, everyone asks this question.

Putting oneself in the hands of Brain Tree Games is the solution to this problem. Brain Tree Games offers the best 500 piece jigsaw puzzles at a reasonable price that will ensure you have the finest puzzle-solving expeditions. Are you curious about how a single company might assist you in your endeavor?
Find out all about it in the following article. Keep scrolling!
Finest 500 Piece Puzzles From Brain Tree Games
Brain Tree Games is a puzzle design and manufacturing company with over five years of experience that recently has announced its arrival in the American market. Brain Tree Games' outstanding assortment of 500 piece puzzles for adults and children alike bridges the gap between high-quality jigsaw puzzles and budget-friendly pricing points and will appeal to any problem-solver.

Anyone interested in embarking on a thrilling puzzle-solving adventure with their family or friends, or even by themselves, should purchase the best 500 piece jigsaw puzzles from the Brain Tree Games online store. On the Brain Tree Games online store, you'll find a wide variety of good 500 piece puzzles for adults and children alike. Each puzzle is made of high-quality materials and will last a long time.
Why Invest On A 500 Piece Jigsaw Puzzles?
Now you're probably wondering why, even though this article keeps raving about Brain Tree Games' great 500 piece puzzles, it never mentions why you should even consider buying puzzles! After all, what good does a puzzle serve if not squander time spent reading books?

Various studies conducted to prove the benefit of solving puzzles is the answer to that. You may find it surprising buy this activity, as shown by various studies, has the potential to save you from the risk of many brain-related diseases, including Alzheimer's, dementia, or memory loss. 

And that's not all: multiple studies compared brain scans of 75-year-olds and 25-year-olds, finding that the brain scans of senior persons who played puzzles regularly were equal to those of 25-year-olds.
That's only the beginning; the following part goes over even more great puzzle benefits that will convince you to bring 500 piece puzzles home!
The following are some noteworthy benefits of solving jigsaw puzzles:
Memory Enhancements
Jigsaw puzzles improve short-term memory. Puzzles increase mental speed, build brain cell connections, and are especially beneficial for enhancing short-term memory.
Your Calming Device
Meditation entails concentrating on a single image for an extended period without allowing other thoughts to enter your mind. Doing a jigsaw puzzle can produce the same results as meditating. The stress of everyday life dissipates, leaving you with a sense of calm and tranquility.
Improved Mental Capabilities
When solving puzzles, you must study individual pieces to see how they fit into the overall picture. Your visual-spatial thinking will improve if you do it regularly, which will help you with driving, packing, using a map, learning and following dance routines, and several other chores.
Involving The Entire Brain
Whether online or offline, Jigsaw puzzles use both the left and right sides of the brain. Consider it a mental exercise that will improve your problem-solving skills and attention span. When you're completing a jigsaw puzzle, your left brain is logical and works linearly, but your right brain is intuitive and creative, and both sides are active.
Where To Buy Best 500 Piece Puzzles?
Now that you've learned about the incredible benefits of puzzles, the only challenge left is locating good 500 piece jigsaw puzzles for adults and children. In reality, many people find it difficult to acquire high-quality puzzles, despite the abundance of possibilities on the market.
"Will I be able to locate nice puzzles in my immediate vicinity? Are they going to last? What assurance do I have that I'm making the best decision possible?" Brain Tree Games' complete assortment of the best 500 piece jigsaw puzzles is the answer to all.

In reality, Brain Tree Games' 500 piece puzzles include several amazing features that make it the greatest on the market. The manner they're made holds the key to their secret. The puzzle surfaces are manufactured with an authentic droplet process that creates a great anti-glare surface and a micro water drop effect for a better puzzle-solving experience. Each of these puzzles has a different shape that aids in problem-solving and gives it its personality.
In addition, Brain Tree Games offer multiple facilities that make it the ideal-most puzzle manufacturer for you. Keep reading to know!
Fastest Delivery
Brain Tree Games has collaborated with the top delivery firms to ensure that your puzzles are delivered quickly and efficiently. This is one of Brain Tree Games distinctive features that offer quick delivery to all buyers in the United States. 
Excellent Quality
As previously said, Brain Tree Games is known for using only the highest quality materials. As they leave the factory for delivery to your homes, all of their puzzle packages are inspected by a quality assurance staff. Everything is done to provide the highest level of customer satisfaction.
Outstanding Customer Service
At Brain Tree Games, we believe that the road to becoming and staying as the best puzzle manufacturer is providing a pleasant user experience. Therefore, we ensure the support team at Brain Tree Games is available 24 hours a day, seven days a week, to answer any issues or make ideas. 
If the product does not match your expectations, you have the option to contact the staff and request a replacement.
So, what's holding you back from taking these high-quality, low-cost puzzles home with you?
Conclusion
Everyone likes it when they can get good quality goods at an affordable rate. Well, Brain Tree Games does exactly that in the puzzle world. So, this is your moment to maximize your leisure time by finishing the best 500 piece puzzles. Bring Brain Tree Games best 500 piece jigsaw puzzles home and brighten your evenings with your family