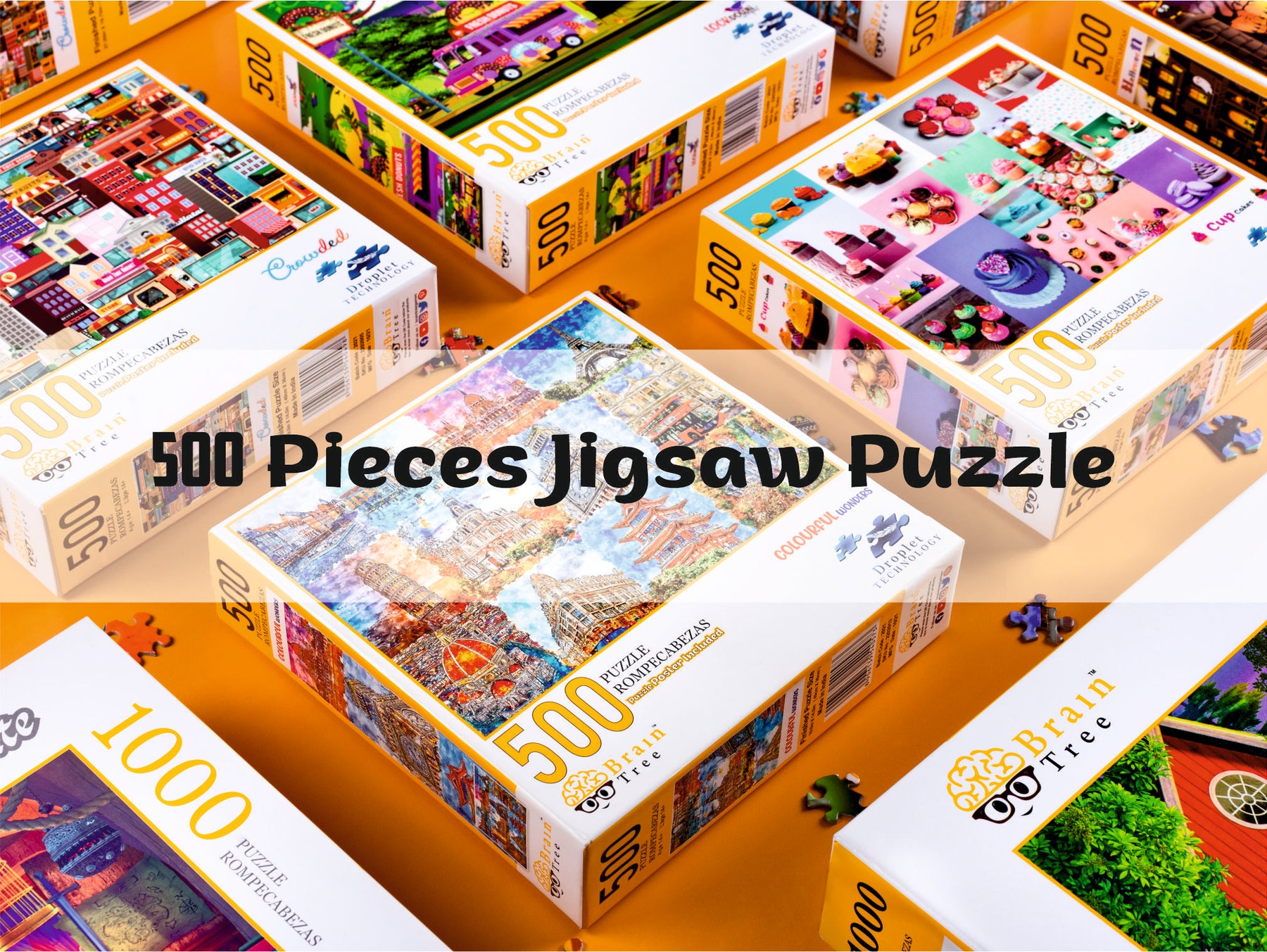 Best 500 piece jigsaw puzzles from Brain Tree Games
Those looking for a constructive detour and a way to escape the planet's chaos should solve the best 500 piece jigsaw puzzles. Whether it's for the holidays or to spend quality time with family and friends, 500-piece puzzles for adults and children alike are designed to decrease tension, enhance muscle memory in the brain, and deliver numerous unforgettable moments when completed.
Puzzles not only help you develop and sharpen your cognitive abilities, but they also aid in the development of your children's motor and concentration skills, as well as improve memory in adults and prevent diseases such as Alzheimer's and dementia.
Furthermore, the benefits of completing the greatest 500 piece puzzles do not stop there. 500 piece puzzles can give you the best of both worlds, with possibilities ranging from a 500-piece jigsaw puzzle to a 2000-piece jigsaw puzzle on the market. It's smaller and more manageable than a 2000-piece puzzle, so it takes less time and is more pleasurable to complete.
Moreover, unlike basic children's puzzles with fewer puzzle pieces, some of the best 500-piece puzzles can put your reasoning skills to the test as well as other elements of your brain.
Benefits Of Solving 500 Pieces Jigsaw Puzzles
The best 500 piece jigsaw puzzles allow you to use both sides of your brain at the same time. Divide the left side into the analytical half and the right side into the innovative half to strengthen these crucial aspects. Your reaction time and problem-solving capacities develop as both hemispheres of your brain are occupied.
It's almost like a mental workout for you, and the 500 piece puzzles for adults and children alike are perfect for honing your skills. As a puzzle fan, you may put your problem-solving and other critical skills to the test by completing a variety of 500-piece puzzles.
That's not everything. Solving a puzzle might be a fun way to pass the time. You and your friends, family, and children may get together to create some fantastic and unforgettable moments.
Put Your Puzzle Needs In The Hands Of Brain Tree Games
As among the world's premier puzzle manufacturers, Brain Tree Games has got all of your 500-piece puzzles that need to be covered. With fast shipping, great quality, and excellent customer service, we provide a fantastic puzzle-buying experience. Brain Tree Games is your one-stop-shop for all things puzzle, bridging the gap between high-quality and budget-friendly 500-piece puzzles for adults and children alike.
Using droplet technology, our 500-piece puzzles are precisely produced with a distinct shape and are around 1.75mm thick with anti-glare, microdroplet, and matte properties.
Our efficient properties do not end here. Along with the exceptional quality of our puzzles, Brain Tree Games offers many options to choose from when purchasing 500-piece puzzles for adults and children.
Different designs and color patterns might motivate you to tackle each new problem with the same excitement as the last. Another important consideration for Brain Tree Games is the puzzle's durability. A fragile puzzle may get warped after a child has played with it, necessitating its replacement. As a result, the best alternative is the 500-piece jigsaw puzzles from Brain Tree Games with a thickness of 1.75 mm.
That's not all; a puzzle poster, zipper bag, four puzzle sorting trays, and a puzzle box stand are included with every 500-piece jigsaw puzzle purchased from our online store. We have some excellent limited-time bargains on our online purchasing website. Take advantage of this chance as soon as you can and bring home the era of health and happiness.