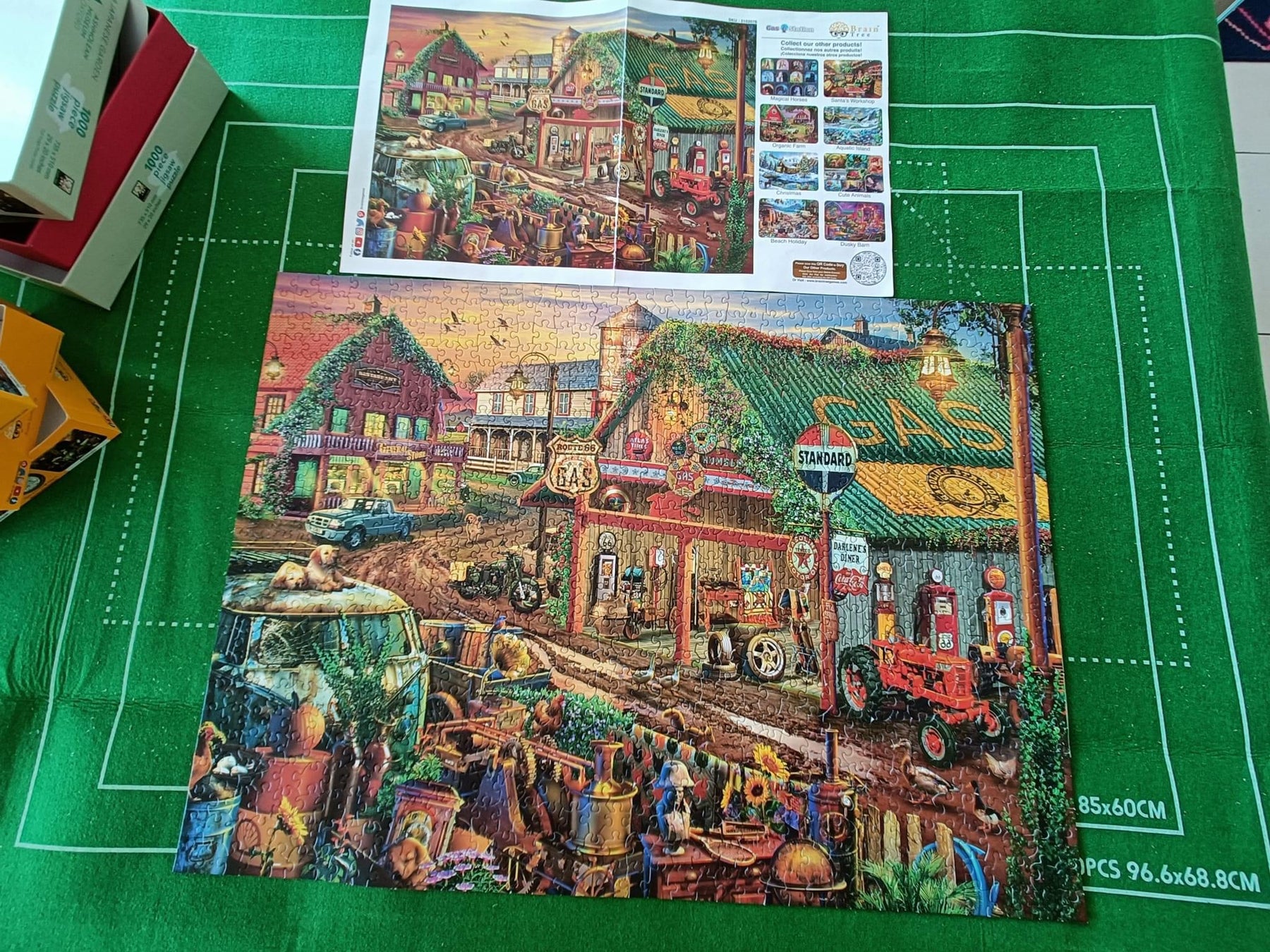 Discover the Beauty of Brain Tree's Gas Station Puzzle
Discover the Beauty of Brain Tree's Gas Station Puzzle
Jigsaw puzzles are a fantastic way to unwind and relax, and when you complete one, it's a feeling of accomplishment like no other. However, what if I told you that there was a puzzle that was not only fun to complete but also beautiful enough to frame and display as a piece of art? That's precisely what the Brain Tree's Gas Station puzzle is all about.
This particular puzzle is incredibly detailed and beautifully crafted, featuring a vintage gas station on Route 66 in the USA. It's not just a place to fill up your car, but also a vehicle repair garage, where farmers park their tractors near the gas station. You'll also notice an air filling station for tires, a general store, a bike parked near the gas station, and even dogs running around on the street.
One of the most interesting parts of this puzzle is the space opposite the gas station, where dogs use it as a shelter, and many broken vehicles are parked, with scrap materials stored in the area. It's an evening time, and many birds are flying happy and going to their home. All these details come together to create a beautiful and captivating scene that will keep you engaged throughout the entire process of completing this puzzle.
Completing this puzzle is not only a relaxing activity, but it also offers a great sense of accomplishment once you've pieced everything together. The level of detail in the puzzle means that it can take a fair amount of time to complete, which is precisely what makes it so satisfying when you finally finish it. The puzzle itself is made from high-quality materials, ensuring that it will look beautiful for years to come.
If you're looking for a puzzle that is both challenging and visually stunning, then the Gas Station puzzle from Brain Tree is an excellent choice. It's an activity that the whole family can enjoy, and once completed, the puzzle itself can be framed and displayed as a unique piece of art.
As promised, we've included images of the completed puzzle, so you can see for yourself just how beautiful it is. Whether you're an avid puzzler or just looking for a fun and relaxing way to spend your downtime, the Gas Station puzzle is an excellent choice that won't disappoint.
One of the primary reasons why an artist might choose to create a jigsaw puzzle is to offer a unique and interactive way for people to engage with their art. Unlike a traditional painting or sculpture, a puzzle allows the viewer to become a part of the artwork by piecing it together.
In the case of the Gas Station puzzle, the artist likely chose to create this artwork as a puzzle to showcase the intricate details of the scene. The puzzle format allows the viewer to appreciate every aspect of the gas station and surrounding area, from the vintage vehicles to the dogs and birds that populate the scene.
Additionally, creating a puzzle is a way for the artist to reach a wider audience. While not everyone may be interested in traditional art forms, many people enjoy the challenge and relaxation that comes with completing a jigsaw puzzle. By creating a puzzle, the artist can connect with a new audience that may not have otherwise appreciated their work.
Another benefit of creating a jigsaw puzzle is that it can be enjoyed by people of all ages and skill levels. While completing a traditional artwork may require a certain level of knowledge or expertise, a puzzle is accessible to everyone, regardless of their artistic background.
In conclusion, the Gas Station puzzle is an excellent example of how an artist can use the puzzle format to create a unique and engaging artwork that can be enjoyed by people of all ages and backgrounds. By creating a puzzle, the artist has allowed viewers to become a part of the artwork and appreciate the intricate details of the scene in a fun and interactive way.
Shop Now at : https://www.braintreegames.com/products/1000-piece-gas-station-jigsaw-puzzles