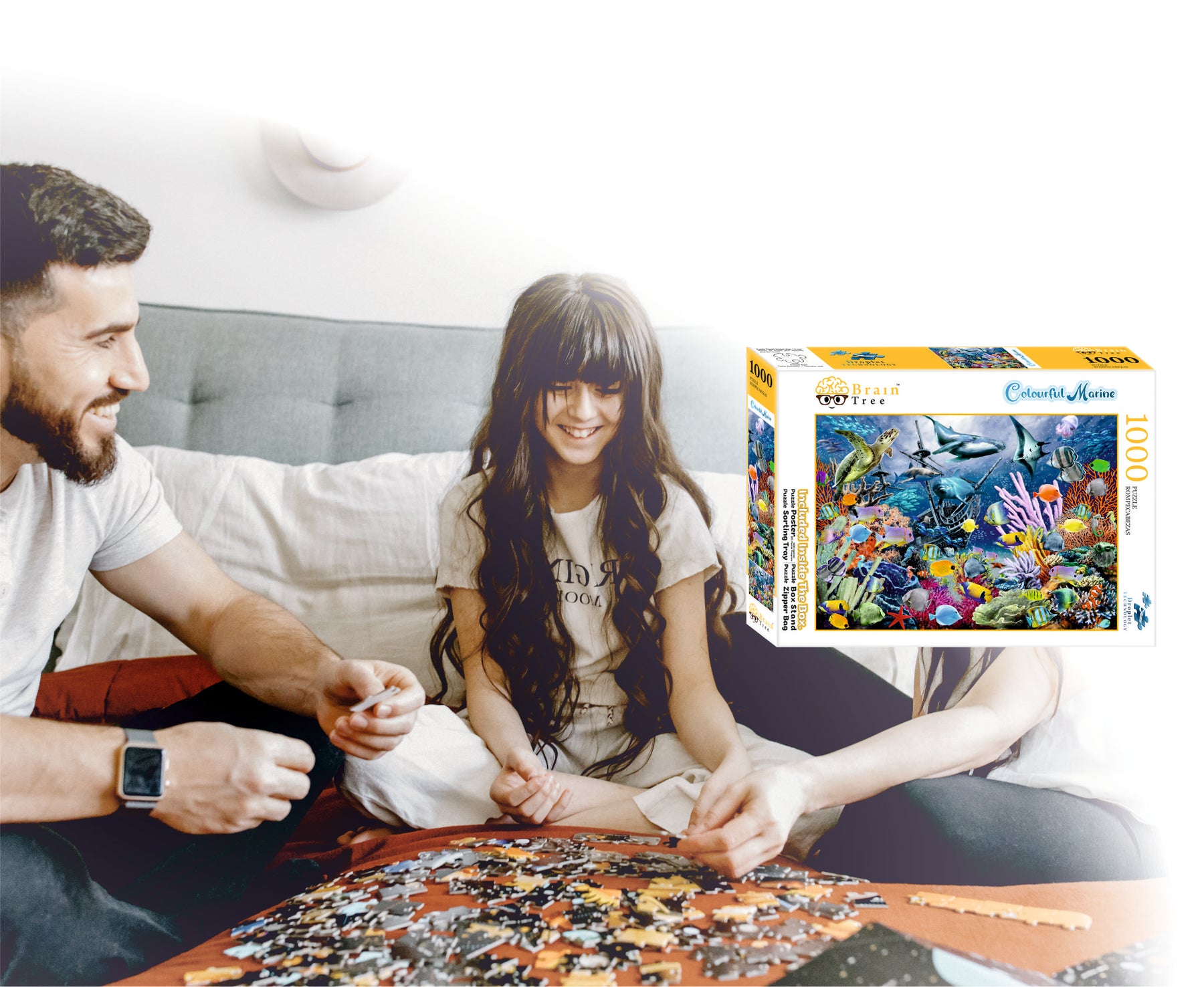 Escape The Chaos On Earth With Jigsaw Puzzles
It's really no mystery that getting older has an impact on both the body and the mind, driving people to seek out ways to counteract those effects. People's greatest priority as they become older is staying physically and psychologically well. Regular exercise is one way to stay in shape physically, but what about your mind? Jigsaw puzzles for adults from Brain Tree Games are designed to help adults improve their minds!
Alzheimer's disease, dementia, and memory loss are all significant sources of anxiety for people as they get older. If you want to take a break from all of your worries while also improving your health, try solving the best puzzles for adults. These puzzles will take you away from the chaos that resides in this world into a wolf full of colors, fantasy, and laughter.
Wanna know how? Continue scrolling!
What Are The Advantages Of Buying Jigsaw Puzzles?
Although this article's main focus is the adult puzzles from Brain Tree Games, we can't just skip onto the talk of Brain Tree Games' puzzles without knowing how puzzles as a whole benefit individuals. To tell you the truth, there are numerous advantages to doing jigsaw puzzles on a daily basis!
Enhancing One's Mental Talents
You must examine individual pieces to understand how they fit into the broader image when putting together adult puzzles. If you practice reflective thinking regularly, it will help you with commuting, packing, utilizing maps, understanding and executing dance routines, and a variety of other tasks.
Stress Reduction
Meditation is focusing on a single image for a long length of time without allowing other thoughts to enter your head. Adults can get the same benefits from meditating by doing a jigsaw puzzle.
Memory Enhancement
Short-term remembering is improved by jigsaw puzzles. Puzzles improve mental agility, strengthen brain cell synapses, and improve short attention span in particular.
Improving Familial Relationships
Solving jigsaw puzzles with your family allows you to bond over the little puzzle pieces as you search for each one, resulting in a work of art full of joy and laughter
Working Out Both Sides Of The Brain
Adult jigsaw puzzles engage both the left and right hemispheres of the brain. When you're working on a jigsaw puzzle, your left brain is logical and operates linearly, while your right brain is intuitive and creative, and both sides are engaged. Consider it a mental workout that will help you enhance your problem-solving abilities and your attention span.
Improve your cognitive abilities
Basic reasoning, problem-solving, organizing, abstract thinking, and complicated notion processing abilities are all part of one's cognitive capacities. It's vital not to let these skills deteriorate because they have such a big impact on people's daily lives. By increasing the existing connectivity between the neurons in your brain and body, completing an adult puzzle can help you improve your cognitive skills. Puzzles help you build these talents by increasing your mind's intellectual processing power and efficiency.
Exquisite Jigsaw Puzzles Right At Your Doorstep!
Solving puzzles is the most wonderful way to relax, unwind, and improve daily habits, and have fun simultaneously. As a response, Brain Tree Games, a leading puzzle manufacturer, has designed a unique collection of adult jigsaw puzzles to help individuals strengthen their minds and have the best puzzle-solving adventures possible.
Regularly doing adult jigsaw puzzles, whether online or offline, is a terrific means of improving your life. Brain Tree Games is a puzzle developer that has been in business for the past five years. Anyone looking for a good jigsaw puzzle should check out the company's unique online offering, which has recently announced its entry into the United States.
On our website, you'll find a wide variety of outstanding puzzles suitable for both adults and children. Their top adult puzzles are less expensive than other adult puzzles on the market while maintaining the same level of quality. They offer a variety of adult puzzles to give you a fantastic puzzle-solving experience.
Where To Buy The Best Adult Jigsaw Puzzles From?
You already know how useful puzzles are; now you just need to pick the best adult puzzles. Many individuals find it difficult to discover high-quality adult puzzles, despite the abundance of possibilities available. This is addressed by Brain Tree Games' comprehensive collection of the best adult puzzles.
Brain Tree Games' adult puzzles have various distinguishing features that make them the best on the market. The key to unlocking their mystery is the manner they're made. The puzzle surfaces are created utilizing a traditional droplet process, which results in a wonderful anti-glare surface with a micro water drop effect for a better puzzle-solving experience. Each puzzle has a distinct shape that helps with problem-solving and gives it individuality.
Because of the unique traits that set it apart from the competition, Brain Tree Games has developed to become one of the most well-known enterprises in the world.
Offering Guaranteed Quick Delivery
One of Brain Tree Games' distinguishing advantages is the speed with which all buyers in the United States receive their orders. To ensure that your puzzles arrive on time and in good shape, Brain Tree Games has partnered with the best shipping companies. The deliveries are always on time and you get your puzzles intact with no damage whatsoever.
Promising Exceptional Quality Jigsaw Puzzles
As originally said, Brain Tree Games is known for exclusively using the best resources available. As each puzzle package leaves the factory for delivery to your home, a quality assurance team inspects it.
Imparting Excellent Customer Services
At Brian Tree Games, a positive user experience is crucial. Brain Tree Games' support team is accessible 24 hours a day, seven days a week to help with any concerns or suggestions. If our products, in any circumstance, do not match your expectations, you can contact our team and request a replacement.
So, what's stopping you from taking home these high-quality, low-cost puzzles?
Adult Jigsaw Puzzles From Brain Tree Games
Nobody should ever have to overspend if they can get access to the same quality products at a budget-friendly price. You're already aware of the finest features of Brain Tree Games adult puzzles and with the added benefit of improving your cognitive abilities, our jigsaw puzzle collection for adults becomes even more vital to have at your homes.
If you incorporate these puzzles into your daily routine, they will not only become your best way to have fun but will also improve your concentration. Use this opportunity to improve your thinking skills. The best adult puzzles from Brain Tree Games are sure to make your life more enjoyable.