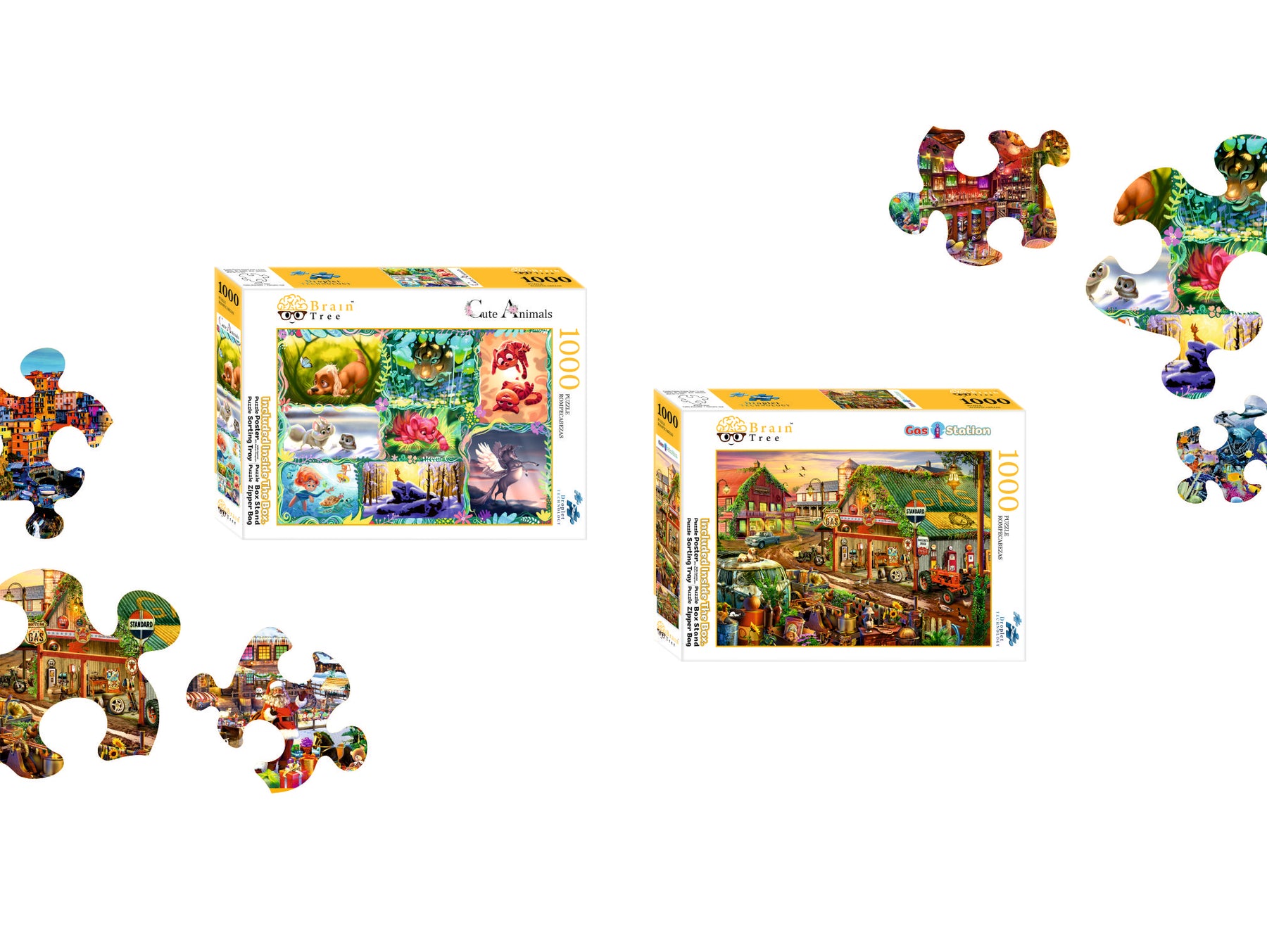 Finest Jigsaw Puzzles From BrainTreeGames
Anyone who wants to bring joy and laughter into their lives can purchase jigsaw puzzles online and do them on a regular basis. The best puzzles for sale on BrainTreeGames are meant to relieve stress, improve muscle memory in the brain, and provide several wonderful moments when completed.
Puzzles not only help you improve and sharpen your cognitive abilities, but they also help your children develop their motor and concentration skills, increase memory in adults, and avoid diseases like Alzheimer's and dementia. Resolving a puzzle is about doing something unusual, enjoyable, intellectual, and healthy. Despite the various benefits of puzzles, many people are unable to acquire high-quality puzzles.
As anyone of any age can benefit from sitting and concentrating on some of the best 500-1000 piece jigsaw puzzles online, BrainTreeGames has brought to you one of the best collections in the market, bridging the gap between good puzzles and affordable rates. BrainTreeGames' puzzles include a wide variety of jigsaw puzzles that will entertain you and your loved ones with a lot of fun.
The Best Jigsaw Puzzles Abound At BrainTreeGames.
BrainTreeGames is a five-year-old puzzle enterprise. Since they act as the middle ground between premium quality jigsaw puzzles and affordable price ranges, their large spectrum of the best puzzles for sale will be a delight for anyone seeking a challenge. Anyone who is concerned about "will I be able to locate decent puzzles near me?" should turn to BrainTreeGames.
The brand has announced its entry in the United States, and you may shop for puzzles at their unique online store. They provide a wide range of theme puzzles that will take you on an exciting puzzle-solving adventure with your family or even by yourself!
The Benefits of Jigsaw Puzzle Solving Adventures
Despite the fact that this post praises BrainTreeGames' excellent jigsaw puzzles, it hasn't yet done much explaining about why you should purchase one. What good is a puzzle if you can't see a movie because of it? To put it bluntly, there are numerous advantages to tackling jigsaw puzzles! Jigsaw puzzles, for example, can help with the following, in addition to improving your mental abilities:
Puzzles Can Assist You in Developing Your Mental Skills
When putting together a jigsaw puzzle, you must analyze individual pieces to determine how they fit into the larger picture. It will help you with commuting, packing, using maps, and comprehending and executing if you exercise reflective thinking on a daily basis.
Solving puzzles might help you unwind.
Meditation is the practice of concentrating on a single image for an extended period of time without allowing other thoughts to enter your mind. Adults can benefit from meditating by completing a jigsaw puzzle. The stress of everyday life dissipates, leaving you peaceful and relaxed.
Family Relationships Can Be Improved With Puzzles
Solving jigsaw puzzles with your family helps you to bond as you hunt for individual puzzle pieces, resulting in a work of art full of joy and laughter!
Puzzles Strengthen Memory And Exercise Both Sides Of The Brain
Jigsaw puzzles also help people strengthen their short-term memory. Puzzles boost mental speed, brain cell connections, and short-term memory, among other things. Both the left and right sides of the brain are used in puzzles. Think of it as a brain workout that will help you improve your problem-solving skills and attention span. When you're doing a jigsaw puzzle, your left brain is logical and linear, while your right brain is intuitive and creative, and both sides are active.
How Does BrainTreeGames Satisfy Customer Needs?
Many individuals find it difficult to find high-quality puzzles, despite the plethora of possibilities. BrainTreeGames' extensive selection of the top puzzles for sale provides an answer to this question. BrainTreeGames is a puzzle manufacturer with a five-year history. You'll find a wide assortment of wonderful puzzles for both adults and children on their website. Their top puzzles are less priced than other puzzles on the market while still being of comparable quality.
BrainTreeGames puzzles include a lot of distinguishing characteristics that make them the best on the market. Examining how they're manufactured is the key to unlocking their mystery. In addition, the quality assurance team that inspects all of their puzzle packages as they leave the factory for delivery to your home adds to the reliability.
BrainTreeGames problems will appeal to both puzzle solvers and non-puzzle solvers. One of the most admirable parts of BrainTreeGames' jigsaw puzzles on sale for adults and children alike is the use of the Droplet process, which results in a superb matte finish with a sharp touch and feel.
The anti-glare surface, paired with the small waterdrop effect, creates a fantastic puzzle-solving environment. Each puzzle piece is around 1.75mm thick and has a distinct shape. At every level of the manufacturing process, we do comprehensive quality checks to ensure that the final product you receive is of the highest quality.
When you buy jigsaw puzzles online from our specialized store, you're bringing fascinating puzzles home with you, ensuring a joyful holiday season spent with family or alone. These jigsaw puzzles will get you in the holiday spirit! With everything from a lovely fantasy world to stunning places, each will provide hours of joyful delight. BrainTreeGames, on the other hand, works with the best delivery partners to ensure that its items are delivered in the most convenient and hassle-free manner possible.
Another notable feature is BrainTreeGames' delivery service, which is offered to all consumers in the United States. The BrainTreeGames customer service team is accessible 24 hours a day, seven days a week to answer questions and provide feedback. You have the option of contacting the staff and demanding a replacement if the product does not meet your expectations.
So, what's stopping you from getting your hands on one of these amazing puzzles?
BrainTreeGames: Your Go-To Puzzle Shop
In addition to the high quality of our puzzles, BrainTreeGames features a wide range of puzzles for adults and children to select from. Different designs and color patterns may inspire you to approach each new task with the same enthusiasm as the last one.
Not only that, but every jigsaw puzzle ordered from our online store comes with a puzzle poster, zipper bag, four puzzle sorting trays, and a puzzle box stand. On our online shopping platform, we have some fantastic limited-time deals. Take advantage of this opportunity as soon as possible to usher in a new era of health and happiness in your home.