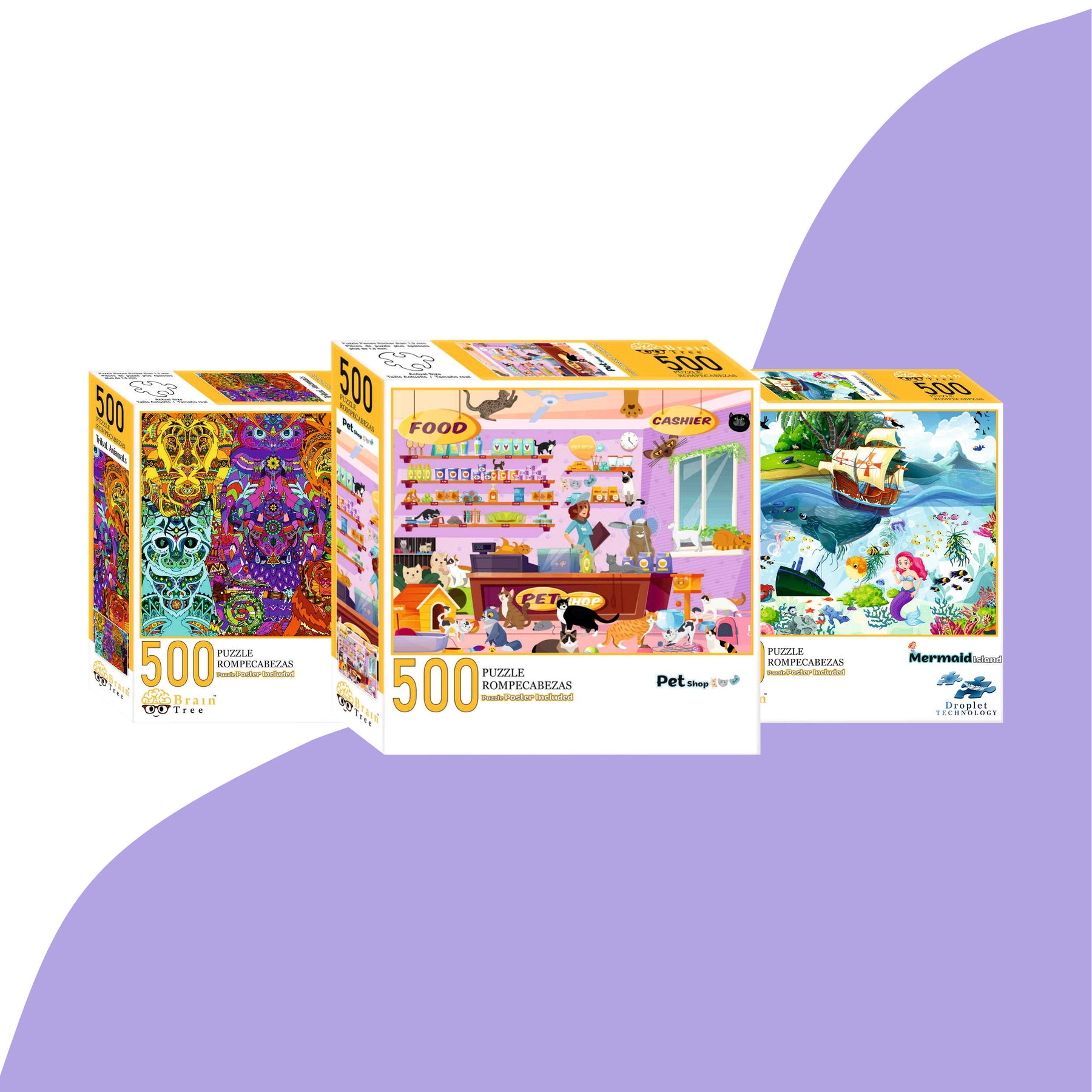 The Top 7 Best 500 Piece Jigsaw Puzzles In 2022
In a world where running towards the next task before the first one is completed is a trend, it's always nice to do an activity that lets you sit at a place and make memories. 500 piece jigsaw puzzles are made especially for this purpose. At a completely affordable rate, you can bring home an amazing puzzle-solving adventure that will help you bring your family closer-all while helping you improve your health.
Adults specifically benefit from the best 500 piece puzzles since the plethora of puzzle pieces make it difficult to assemble. This helps them enhance their deteriorating cognitive abilities and helps prevent diseases like dementia and Alzheimer's.
With that in mind, we've made this list of the best 7 500 piece jigsaw puzzles for adults that can strengthen your familial bonds and improve your mind at the same time. Continue reading to know more.
1.  
Cake World 500 piece Jigsaw Puzzles
Cake world 500 piece jigsaw puzzles let you relive the savory taste of sweet cakes when they melt into your mouth. The puzzle is of a moderate level difficulty and perfect if you're just honing your puzzle-solving skills. Sweet candies, cupcakes, lollipops, and those mouth-watering berries, the puzzle depicts them all. Assembling the cake world jigsaw puzzle together lifts your moods as every piece comes together.
2.  
Magic Mask Jigsaw Puzzles 500 Piece
Magic mask jigsaw puzzles 500 pieces are puzzles of high difficulty. They depict masks of variable designs and colors in a single picture. As you put together the 500 piece jigsaw puzzle, you see how every single piece gives rise to a different pattern mask. Women can relive their old days when mask parties were a trend, all while sharpening their concentration skills and cognitive abilities.
3.  
Pet Shop 500 piece Jigsaw Puzzles
Only after you adopt an animal do you figure out what you were missing in your life. The pet shop 500 piece jigsaw puzzles let you witness different pet species in a single picture. See how the keeper lady waits for her next customer to come and take a fur baby home. All the pet food, cats playing around, fishes, birds make it such a cute sight to behold. Take up the pet shop jigsaw puzzle and live the feel of having a fur baby.
4.  
Cup Cakes 500 Piece Jigsaw Puzzles
Cup cakes 500 piece jigsaw puzzles is a cluster of square-shaped pictures depicting different varieties of cupcakes. From a delicious blueberry cupcake to a chocolate flavored one, the puzzle shows them all into a single picture. The vibrant colors and droplet technology used to make the puzzle piece will make the puzzle assembling worth your while. So take up the cupcakes jigsaw puzzles and welcome a mellow mood into your living rooms.
5.  
Colorful Wonders 500 Piece Jigsaw Puzzles
Colorful wonders 500 piece jigsaw puzzles are a puzzle of very high difficulty enough to put all your patience and puzzle-solving skills to the test. The special feature of this puzzle is that it doesn't just show you how the world's wonders look but showcases them in a colorful format. Assemble the colorful wonders jigsaw puzzle together and see how 12 different wonders of the world raise the atmosphere of your living room when you hang the completed puzzle onto your wall.
6.  
Birds Jigsaw Puzzles 500 Piece
Have you ever witnessed how at every dawn and duck, small birds fill the sky? Doesn't it make you want to see these cute creatures up close? The birds' jigsaw puzzles 500 piece lets you do just that by showcasing a cluster of small birds all grouped into a single picture. See how the hummingbird sings to make the atmosphere better- all the tiny bird species will make it worth your while with their dow eyes and colorful feathers.
7.  
Animal Jigsaw Puzzles 500 Piece
As the world moves towards technology and development, what everyone misses out on is being connected with nature. The animal jigsaw puzzles 500 piece are made with the best of droplet technologies so individuals can again feel the connection with nature in the best of ways. The vibrant colors giving rise to an assemblage of different wild animals will always be a sight to behold.
FAQs
Where to buy authentic 500 piece jigsaw puzzles online?
The best 500 piece jigsaw puzzles online can be found on the Brain Tree Games' online store. The company has been in the puzzle-making business for 5 years now and is experienced and skilled enough to give the best of services. They use the best droplet technologies, so their puzzle pieces always have a smooth, anti-glare surface.
Why are Brain Tree Games' puzzles the best 500 piece jigsaw puzzles?
What makes Brain Tree Games' 500 piece jigsaw puzzles is how they are made. All the 500 piece puzzles are randomly cut with boards of 1.75 mm thickness. They only use authentic micro-water droplet technology for their puzzle surfaces, giving them an anti-glare, smooth, and matte feel. The boards are always soft to touch, yet this never means they'll be destroyed easily.
What add-ons do Brain Tree Games offer on their puzzles?
The best feature of Brain Tree Games' services is the add-ons they offer on their puzzle sets. For example, a 500 piece jigsaw puzzle online for adults costs about $10.95, but it's isn't just the puzzle pieces covered at this rate. A puzzle poster, puzzle stand, 4 puzzle sorting trays, and a zipper bag are included in your best 500 piece jigsaw puzzles. The same goes for the other puzzles on the Brain Tree Games online store.
What are the best cheap 500 piece jigsaw puzzles?
With their years of experience, Brain Tree Games knows what are the best raw materials that can be used, where to obtain these materials at the best rates and how to process them efficiently. This lets them offer you the best cheap 500 piece puzzles with the same quality as the expensive ones. Don't believe us? Well, explore the Brain Tree Games online store, and you'll know for yourself the authenticity of these words.
Does Brain Tree Games offer jigsaw puzzles with different shaped pieces- 500 pieces?
Brain Tree Games incorporates various features into their puzzle pieces. These include a premium matte feel, an anti-glare smooth surface and many more. Another feature is the cut of the Brain Tree Games 500 puzzle pieces. Every puzzle piece is randomly cut, ensuring they're of different shapes and your puzzle-solving experience is even better.