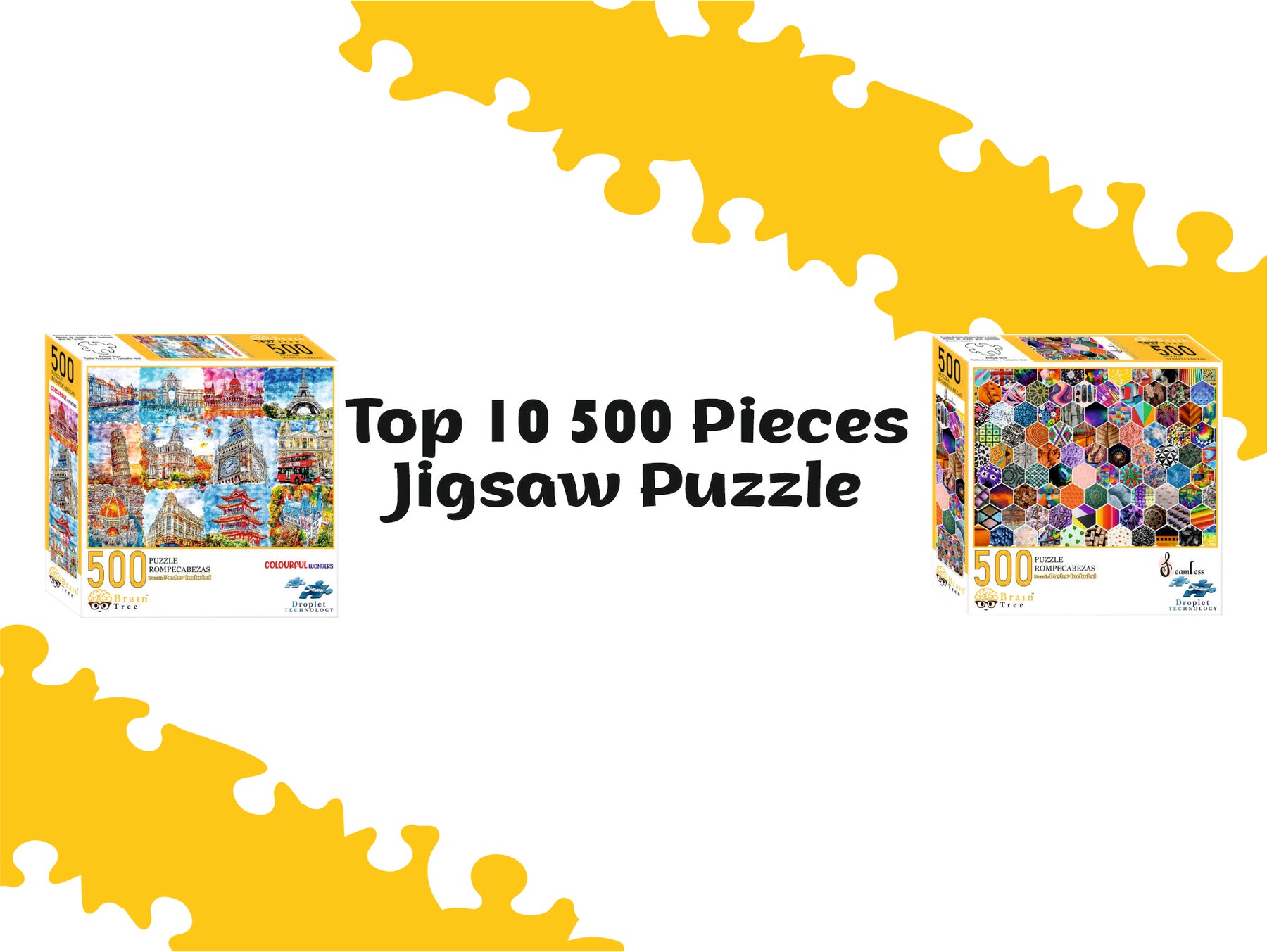 Top 10 Best 500 Piece Jigsaw Puzzles In 2022
The 500 piece puzzles are ideal for the present society that has ingrained in us a lifestyle of not finding the time for oneself. Everyone is so focused on achieving their own goals that they forget that life isn't just about achieving prestige but also about experiencing wonderful times with loved ones. The plethora of pieces in the best 500 piece jigsaw puzzles guarantee that you're gonna have a long session of laughter and fun with your loved one. And isn't that just what you were aiming for?
When you sit down to finish the 500 piece puzzles, others will naturally join you out of interest. You'll be in for a joyful time in which everyone is completely unconcerned about completing their next assignment.
As a result, we've put together a list of the top ten 500 piece puzzles. Continue reading to learn about all of their fantastic characteristics.
1.  
Halloween Puzzles 500 Piece
Who hasn't seen a scary film in their life? The Halloween season allows individuals to live the life of a ghost while having fun and playing games, and the Halloween Puzzles 500 Piece adds tenfold to that experience. The puzzle depicts a nightmare mansion filled with terrifying pumpkin faces. As the jigsaw comes complete, see how all of the spooky ghost creatures merge to form a single image.
2.  
Animal Jigsaw Puzzles 500 Piece
People canot see nature due to the fast-paced nature of our world. The Animal Jigsaw Puzzles 500 Piece allows individuals to see the beauties of nature from the comfort of their own homes. You are not required to move out and pay the zoo's expensive fees. Simply get the animal jigsaw puzzles and put them together to observe how different animals and plants seem when joined together.
3.  
Backyard Jigsaw Puzzles 500 Piece
You spent your childhood playing with mud and balls in the backyard of your home. It's the same for your children too who are also growing with mud on their faces and twinkles in their eyes. The Backyard Jigsaw Puzzles 500 Piece aims to let you witness those times of childhood with their exceptional colors and amazing technologies. See how the jumble of plants and rabbits creates a lovely scene. Recreate the atmosphere of your childhood by piecing them together.
4.  
Birds Jigsaw Puzzles 500 Piece
A clutch of little birds has been brought together into a single picture in the Birds Jigsaw Puzzles 500 Piece. Any species you can think of will be found on the puzzle board when you piece it together, including sparrows, nightingales, and hummingbirds. The puzzle is constructed of strong boards, and the application of droplet technology has given it a unique feel and authenticity.
5.  
Seamless 500 Pieces Jigsaw Puzzles
What's the point of doing a puzzle if it doesn't push you to your limits? The Seamless 500 Pieces Jigsaw Puzzles are designed to put your puzzle-solving abilities to the test. The images in the puzzle are hexagonal in shape and display various patterns. Consider the challenge of putting together 500 pieces of different colors and patterns into a logical picture. When you buy seamless jigsaw puzzles, you're in for exactly that.
6.  
Lockdown 500 Pieces Jigsaw Puzzles
Everything came to a halt in the year 2020 when the Covid-19 virus was at its peak. Don't you wonder how the world would have looked if everyone was locked up in their homes? The Lockdown 500 Pieces Jigsaw Puzzles are here to depict it. See how the planet carries on when human civilization is locked up in their apartments, and how the creatures of nature come in to heal it all at once.
7.  
Crowded 500 Pieces Jigsaw Puzzles
Crowded 500 Pieces Jigsaw Puzzles are a highly difficult problem that will put your patience and puzzle-solving skills to the test. This puzzle is unique in that it not only depicts how the different buildings in a cluster seem but also presents them in a colorful fashion. Assemble the crowded jigsaw puzzle and watch as distinct buildings transform the mood of your living room when you hang the finished piece on the wall.
8.  
Magic Mask Jigsaw Puzzles 500 Piece
Magic Mask Jigsaw Puzzles 500 Piece are part of the most difficult puzzles in this list. These puzzles show a cluster of colorful masks with a variety of designs and colors combined into a single image. As you put the 500 piece jigsaw puzzle together, you'll notice how each piece creates a unique pattern mask. Women can reminisce about the days when mask parties were all the rage, all while honing their focus and cognitive talents.
9.  
Pink Table Jigsaw Puzzles 500 Piece
Pink Table Jigsaw Puzzles 500 Piece depicts how the world would appear if everything was pink. These puzzles are designed for your little girl who has just discovered the beauty of blushing cheeks. Assemble the punk table jigsaw puzzle with your toddler to observe how the puzzle results in a jumble of pink items scattered around a table. It becomes an even better pastime to participate in when your cognitive talents improve.
10.
Mermaid Island 500 Pieces Jigsaw Puzzles
Mermaid Island 500 Pieces Jigsaw Puzzles show lovely creatures surviving on a stunning love island. With the mermaid island jigsaw puzzle, you can see how a pirate ship discovers this gorgeous island. The puzzle's rich colors and attractive design will make it worthwhile. The magnificent fish that surround your mermaid in the ocean make for a spectacular spectacle.
FAQs
Are Brain Tree Games' puzzles the best 500 piece jigsaw puzzles?
The way Brain Tree Games' 500 piece puzzles are made what sets them apart. All of the puzzle pieces are cut at random from 1.75 mm thick boards. For their puzzle surfaces, they only use genuine micro-water droplet technology, which gives them an anti-glare, smooth, and matte feel.
What add-ons do Brain Tree Games offer on their puzzles?
The most appealing aspect of Brain Tree Games' services is the variety of add-ons available for their puzzle sets. A 500 piece jigsaw puzzle, for example, costs around $10.95 and comes with a puzzle poster, a puzzle stand, four puzzle sorting trays, and a zipped bag.
What are the best cheap 500 piece jigsaw puzzles?
Brain Tree Games knows what the greatest raw materials are, where to get them at the best prices, and how to process them efficiently thanks to their years of experience. As a result, they can provide you with the best 500 piece jigsaw puzzles that are of the same high quality as the more expensive ones at a cheap rate.