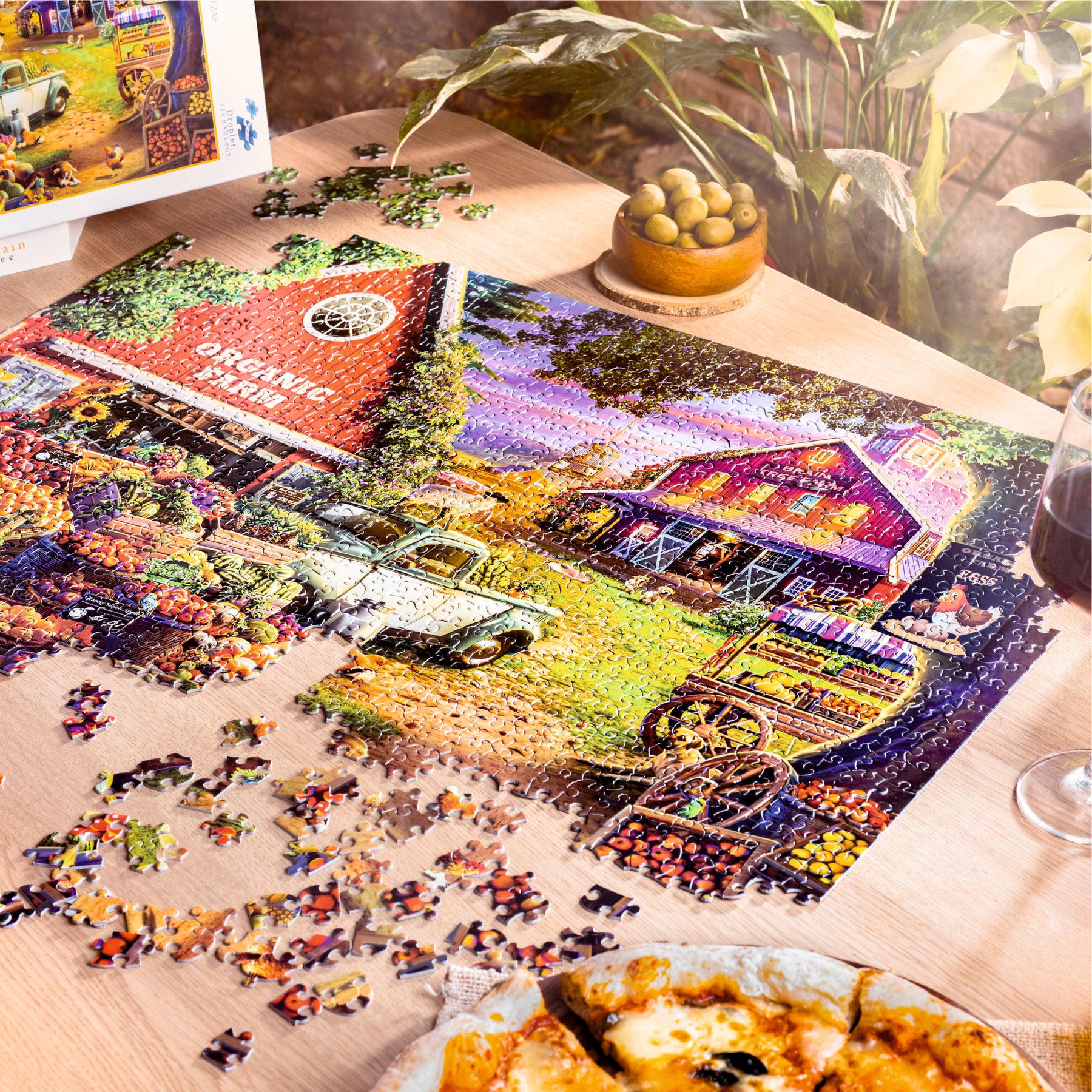 Top 11 500 Piece Jigsaw Puzzles Under $13 In 2022
After a Netflix marathon of the best films and dramas or a retro binge of the best 90's sitcoms, it can be good to do something that both engages and comforts the brain. That's where the greatest 500 piece puzzles come into play, which appears to have reached a high in popularity as individuals nowadays have started the trend of digital detoxing and have started finding offline activities to pass their time. And the best 500 piece jigsaw puzzles are not only ideal to pass your time but are well-known for their ability to improve memory and maybe prevent dementia.
The best 500 piece jigsaw puzzles have specifically been introduced for people who can't afford the super expensive puzzles out there. At just $10.95, you can bring home an assemblage of puzzle pieces that'll give you a huge sense of accomplishment once you complete them.
As a result, we've compiled a list of the top 11 500 piece puzzles. Scroll down to learn about all of their amazing characteristics.
1.  
Animal Jigsaw Puzzles 500 Piece
The animal jigsaw puzzles 500 piece are created so that people can see the amazing creatures of nature from the comfort of their own homes. The puzzle combines a variety of exotic animals, ranging from ferocious tigers to adorable rabbits, into one image. The upcoming photograph is enhanced by a temperate forest in the background.
2.  
Birds Jigsaw Puzzles 500 Piece
A clutch of little birds has been brought together into a single picture in the birds jigsaw puzzles 500 piece. Any species you can think of will be found on the puzzle board when you piece it together, including sparrows, nightingales, and hummingbirds. The puzzle is constructed of strong boards, and the application of droplet technology has given it a unique feel and authenticity.
3.  
Cup Cakes 500 Pieces Jigsaw Puzzles
Cup cakes 500 pieces jigsaw puzzles are a collection of square-shaped images portraying many cupcake kinds. The puzzle combines a delectable blueberry cupcake with a chocolate-flavored one to create a single image. The bright colors and droplet technology utilized to create the jigsaw pieces will make putting it together worthwhile. So get out your jigsaw puzzles of cupcakes and welcome a relaxed ambiance into your living rooms.
4.  
Colorful Wonders 500 Pieces Jigsaw Puzzles
Colorful wonders 500 pieces jigsaw puzzles is a highly difficult puzzle that will put all of your patience and puzzle-solving skills to the test. This puzzle is unique in that it not only depicts how the world's wonders seem, but also presents them in a colorful fashion. Assemble the colorful wonders jigsaw puzzle and watch as 12 distinct world wonders transform the mood of your living room when you hang the finished piece on the wall.
5.  
Mermaid Island 500 Pieces Jigsaw Puzzles
Mermaid island 500 pieces jigsaw puzzles show wonderful creatures surviving on a magnificent love island. With the mermaid island jigsaw puzzle, you can see how a pirate ship discovers this gorgeous island. The puzzle's rich colors and attractive design will make it worthwhile. The magnificent fish that surround your mermaid in the ocean make for a spectacular spectacle.
6.  
Halloween Puzzles 500 Piece
Who hasn't seen a horror film at some point in their lives? The Halloween season allows people to live the life of a ghost while having fun and playing games, and the Halloween puzzles 500 piece adds to that experience ten-fold. The puzzle depicts a nightmare mansion filled with frightening pumpkin faces. As the jigsaw comes to completion, have a peek at how all of the mysterious ghost creatures look when combined into one image.
7.  
Seamless 500 Pieces Jigsaw Puzzles
What good is a puzzle that doesn't push you to your limits? The seamless 500 pieces jigsaw puzzles are designed to put your puzzle-solving skills to the test. The images in the puzzle are hexagonal in shape and depict various patterns. Consider the challenge of putting together 500 puzzle pieces of varying colors and patterns into a logical picture. When you buy seamless jigsaw puzzles, you're getting exactly that.
8.  
Pet Shop 500 Pieces Jigsaw Puzzles
Only after adopting an animal do you realize what you've been missing in your life. The pet shop 500 pieces jigsaw puzzles allow you to see a variety of pet species in one picture. It's a cute sight to see with all the pet food, cats running around, fish, and birds. Take up the pet store jigsaw puzzle and experience what it's like to have a pet.
9.  
Flora and fauna 500 Pieces Jigsaw Puzzles
People no longer have the opportunity to see nature because of the fast-paced society we live in. People may see the marvels of nature straight from their homes thanks to the flora and fauna 500 pieces jigsaw puzzles. Simply collect the flora and fauna jigsaw puzzles and put them together to explore how different animals and plants seem when paired together.
10.
Pink Table Jigsaw Puzzles 500 Piece
Pink table jigsaw puzzles 500 piece depict how the world would appear if everything were pink. These puzzles are designed for your little girl who has recently discovered the beauty of blushing cheeks. Assemble the punk table jigsaw puzzle with your toddler and watch as the puzzle becomes a jumble of pink items scattered around a table.
11.
Cake World 500 Pieces Jigsaw Puzzles
Cake world 500 pieces jigsaw puzzles allow you to relive the sweet taste of cakes as they melt in your mouth. The challenge is somewhat difficult, making it ideal for practicing your puzzle-solving skills. Sweet candy, cupcakes, lollipops, and those delectable berries are all depicted in the puzzle. As each piece of the cake globe jigsaw puzzle is put together, your mood improves.
FAQs
What are the best 500 piece adult jigsaw puzzles?
500 piece jigsaw puzzles are suitable for any puzzle-solver since they pose a challenge and put adults' cognitive skills to the test. Brain Tree Games' adult jigsaw puzzles are the best assortment you may check into for that reason.
Where can I find genuine 500 piece jigsaw puzzles online?
The Brain Tree Games online store has the best 500 piece jigsaw puzzles available. The company has been in the puzzle-making business for 5 years and has the necessary knowledge and skills to provide the best possible service.
What puzzle add-ons do Brain Tree Games provide?
The most appealing aspect of Brain Tree Games' services is the variety of add-ons available for their puzzle sets. Your best 500 piece puzzles come with a puzzle poster, a puzzle stand, four puzzle sorting trays, and a zipped bag.