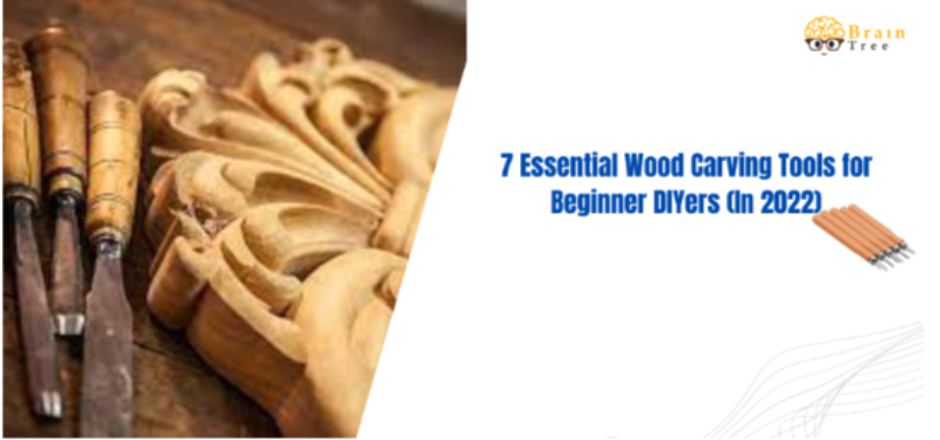 7 Essential Wood Carving Tools for Beginner DIYers (In 2022)
Wood is used to produce art by carvers. The common viewer cannot but be astonished by their work, which ranges from straightforward whittling to enormous, elaborately made creations!
Wood carving is a hobby that takes commitment, perseverance, and attention to detail to master. While others have been doing this for years, for some it is only the beginning of their passion.
You may start carving beautiful works of art that are guaranteed to wow friends and family with just a basic set of tools and some instruction from books and internet tutorials!
What Are the Most Common Wood Carving Tools?
When compared to ordinary DIY woodworking or carpentry projects, wood carving projects are usually more detailed and require a more sensitive touch. The correct tools for the work will depend on what you want to do with your project, but beginners should have a broad notion before purchasing anything.
 If you are new to wood carving, selecting the correct wood material and tools is critical. When producing complicated motifs or basic shapes with smooth finishes, such as bowls, the correct type, and the set will allow for optimum control.
Here We have compiled some resources to assist you to get started on this rewarding hobby.
1.Carving Knives
Carving knife tools are available in a variety of sizes and forms, with each size being best for a certain kind of cutting. When carving wood, the shape affects how tiny the details may be while still preserving accuracy. Straight or curved blades: which is better? Long or short edge? plays a part, too.
Knowing the sort of wood tools, you intend to use for your project is crucial since it will affect how much pressure and force should be used during carving. Because they offer less resistance and are therefore simpler to cut through, hard materials might occasionally present a challenge. However, in all situations, maintain your blades sharp for the greatest results.
The ideal approach to begin wood carving is to complete projects with only a set of carving knife tools. Most of these are less detailed and have a rougher finish, but they will help you hone your skills before switching to other approaches as necessary.
2. Chisels
Chisels are versatile woodworking tools. They come in a variety of shapes and sizes, each with its own purpose. Some chisels are designed to cut into the wood, while others can hammer nails into boards or even break apart stone with ease. A wood carving chisel can be pushed through the wood by striking it with a hammer.
Chisels come in a variety of forms, such as bevelled edge bench tools and mortise cutters, which can handle larger items
3.Gouges
Unlike chisels, gouges have a unique shape that sets them apart from each other. With its rounded edges and soft concave curves, it resembles the scoop of a spoon considerably more. A cutting tool called a gouge is used to make deep or little hollows in wood. In some circumstances, it is crucial since it can produce curved edges that give products a more visually pleasing shape.
4. V-tool
A veiner tool is like a gouge in overall shape, but with longer sides. Because it forms a U-shaped cut when pushed into wood, it is also known as a U-Gouge. Its one-millimetre-wide blade on either side produces delicate lines and detailed cuts, making it ideal for minor applications like accenting furniture legs.
The V-tool is a compact, detail-oriented tool with a sweeping downward curve rather than a U-shaped edge. It can be used for carvings in particular types of wood, such as oak or maple, when you want your blade to take fewer bites yet still have enough grip.
5. Skew Chisel
A skew is a chisel with an angled blade. It is a bevel-edged tool with an angled cutting tip that can cut intricate designs like those seen in furniture making or sculpture to perfection with no difficulty!
6. Leather Strop Kit
The safest blades to use are those that require the least amount of pressure and force to move and control. Additionally, if knives and other wood carving tools are dull, using them will require more force and cause unpredictable movement.
Get yourself some whetstones or a strop/leather strip combo tool, and think about routinely honing your blades to keep your instruments safe while keeping them functioning well.
7.  Safety Gear and Equipment
The act of carving wood is like a dance between the artist's hand, the moving, razor-sharp blade, and occasionally even flying chips! Always wear protective eyewear to prevent injury from shavings and chips landing on your eyes, which could result in life-threatening cuts. Wearing a glove or finger protection will also be beneficial.
When utilizing tools, good safety procedures must be followed. In order to control the tool easily and always keep yourself safe, keep both hands far away from sharp edges and do not place anything in front of them!
Wrapping up 
The best wood carving tools for beginners are comfortable and simple to use. If you are just starting off, these features should be prioritized in your purchase. They will make things easier and allow you to learn faster from mistakes made during practice sessions with harder carved materials like oak or walnut. The more advanced kits have more features, but they can be difficult to use if you are still learning this wonderful trade.
There are numerous elements that can and will affect this, ranging from the quality of wood carving for beginners' equipment to your choice of wood, guidance, and responsible attitude. You must protect yourself with safety tapes, thumb guards, and other items such as aprons. You should maintain the sharpness of your tools by stopping them on a regular basis.

Soapstone Carving Kits are gaining popularity these days as compared to Wood Carving Kit due to various reasons such as Soapstone is soft, non-absorbent and non-prosperous while Wood fluctuate in a different direction. Soapstone is resistant to several environment factors while Wood is Less Durable. Know More About Soapstone Carving Kit Now!