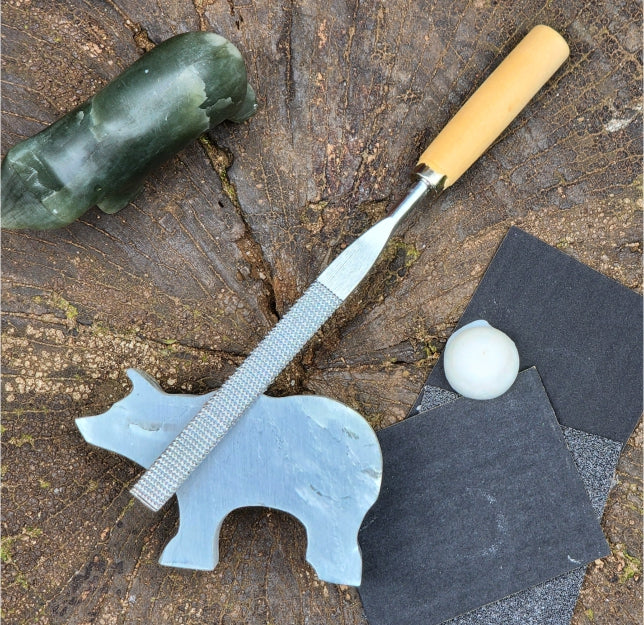 Soapstone Carving: What's Special About It?
Soapstone carving is an ancient art form that dates back to the Neolithic era, when our ancestors first discovered the many benefits of this versatile material. Over time, it has become a popular pastime for people of all ages, and today it is considered one of the most fascinating and rewarding DIY activities for kids and adults alike.
One of the most special things about soapstone carving is the unique properties of the stone itself. Soapstone is a soft, easily workable material that can be carved with simple tools, making it an ideal choice for novice carvers or those who want to try their hand at this ancient art form. It is also a naturally occurring mineral that is found in a variety of colors, from green to brown, which means that every soapstone carving is truly one-of-a-kind.
But it's not just the physical properties of soapstone that make it special. There is also a rich cultural history behind this ancient art form that has been passed down from generation to generation. Soapstone carvings have been found in cultures all over the world, from India to Scandinavia to the Americas, and they often hold deep symbolic meanings related to mythology, religion, and other important cultural traditions.
In addition to its cultural significance, soapstone carving also has many practical benefits. For one thing, it is a great way to improve your motor skills and hand-eye coordination, which is especially important for children. By working with simple tools and shaping the stone to your liking, you can build your confidence and hone your fine motor skills in a fun and engaging way.
Soapstone carving is also a great way to relieve stress and promote relaxation. Many people find that the process of carving is meditative and calming, allowing them to focus their minds and unwind from the stresses of everyday life. In fact, soapstone is often used in aromatherapy and other holistic practices because of its soothing and balancing effect.
At our company, we specialize in providing high-quality soapstone carving kits for children and adults alike. Our kits include everything you need to get started, from pre-cut soapstone blocks to carving tools to a step-by-step instruction manual. With our soapstone carving kit, you can discover the joy of this ancient art form for yourself and create beautiful, unique sculptures that will be cherished for years to come.
Check Out few of the Amazing Soapstone Carving Kits
Soapstone Carving What's Special About It?
In conclusion, soapstone carving is a truly special art form that has captivated people for centuries. Whether you are looking for a fun activity to do with your family or a new hobby to explore on your own, soapstone carving is a great choice. So why not give it a try today and discover for yourself what makes this ancient art form so special?