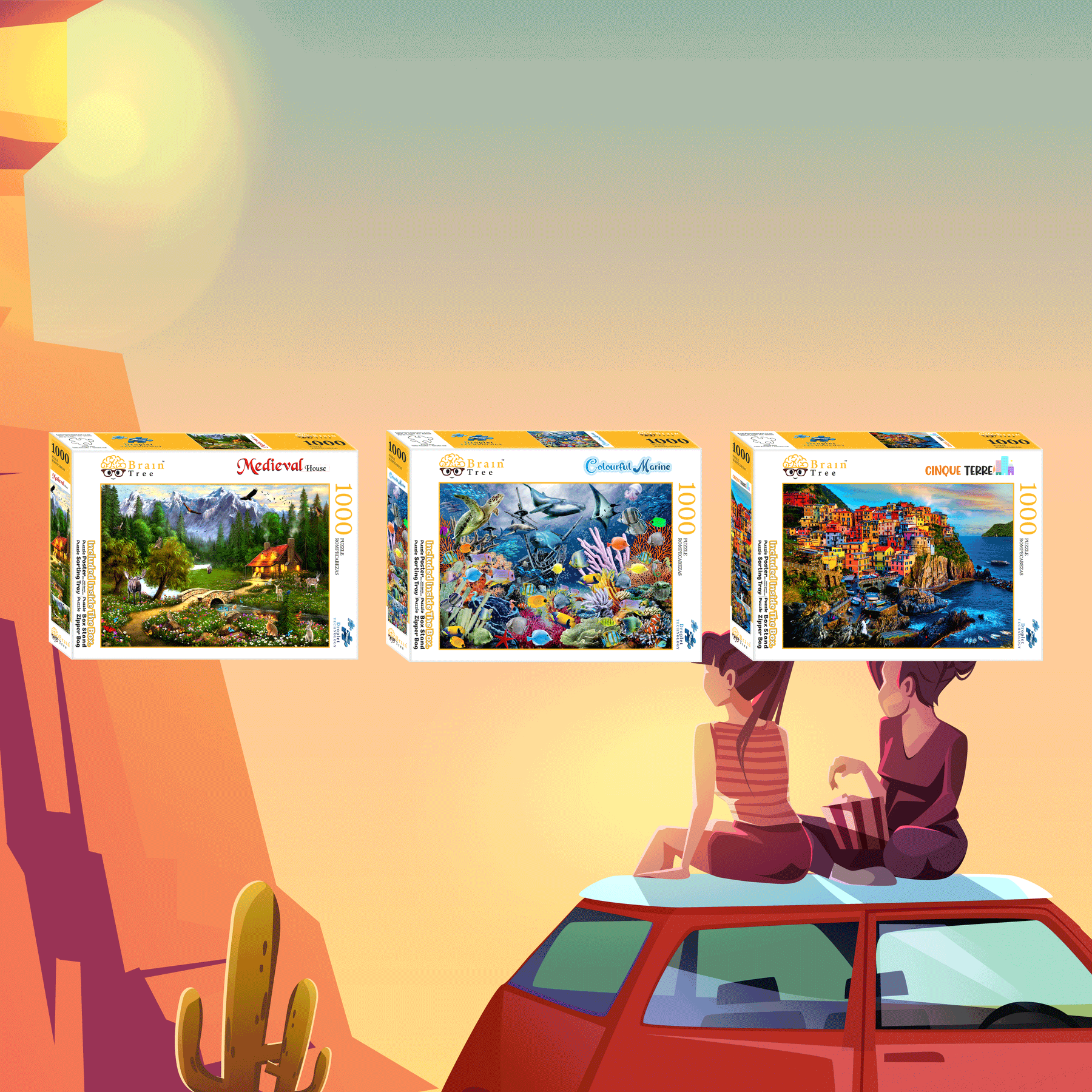 1000 Piece Jigsaw Puzzles To Brighten Up Your Evenings
1000-piece jigsaw puzzles are a missing component in your life if you want to make the most of your vacations and holidays by spending quality time with your family and friends. The puzzles help you de-stress, have fun, and enhance your everyday routine. Solving 1000 piece jigsaw puzzles increases your mental process and brain's speed of operation. It achieves this by enhancing the connections between brain cells that already exist.
Buying high-end jigsaw puzzles 1000 pieces from a store, on the other hand, can put a strain on your monthly budget. Brain Tree Games has you covered if you're wondering how to get around the money issue and receive the best puzzle-solving experience for the least amount of money. Brain Tree Games provides high-quality 1000 piece jigsaw puzzles solving experience at an affordable price!
Let us have a look.
Amazing 1000 Pieces Puzzles From Brain Tree Games
With over five years of experience in the puzzle design and manufacturing industry, Brain Tree Games has announced its arrival in the United States. Brain Tree Games' excellent selection of the best 1000 piece puzzles will appeal to any problem-solver, bridging the gap between high-quality jigsaw puzzles and economical price ranges. Choose 1000-piece jigsaw puzzles from the exclusive online store and get ready for a fascinating puzzle-solving journey with your loved ones or even by yourself. By scrolling down, you may look through our collection.
You'll find a range suitable for both adults and children. All of the puzzles are long-lasting and built of high-quality materials. There are also a number of other features that distinguish Brain Tree Games from the competitors. Here are some of the most notable features:
What Helps Become Brain Tree Games The Best Puzzle Provider?
Our 1000 piece jigsaw puzzles have the perfect blend of elegance and creativity, in addition to outstanding build quality. Each piece is shaped differently to add variety to the jigsaw puzzle-solving experience. The jigsaw parts are approximately 1.75 mm thick, making it a sturdy and substantial puzzle. Brain Tree Games includes a puzzle poster, zipper bag, four puzzle sorting trays, and a puzzle box stand with every box of 1000 piece jigsaw puzzles.
High-quality boards are utilized to give the puzzle a premium look and feel. To provide an anti-glare surface, a premium matte look, and a tiny waterdrop effect, Droplet Technology is used in all of our puzzles. If you are unhappy with the quality of the puzzle, we will refund your money in full. Why are you still debating whether or not to make a purchase when such great quality products are available at such low prices?
Trust Brain Tree Games To Bring You The Best 1000 Piece Puzzles
As one of the world's premier puzzle manufacturers, we've got all of your jigsaw puzzles 1000 piece needs covered. With fast shipping, great quality, and excellent customer service, we provide a fantastic puzzle-buying experience. Brain Tree Games is your one-stop shop for all things puzzle, bridging the gap between high-quality and economical 1000 piece puzzles for adults and children alike. Check out our one-of-a-kind puzzle collection, which includes everything from Christmas Holidays to Underwater Treasures. We have some excellent limited-time bargains on our online purchasing website. Take advantage of this chance as soon as you can.