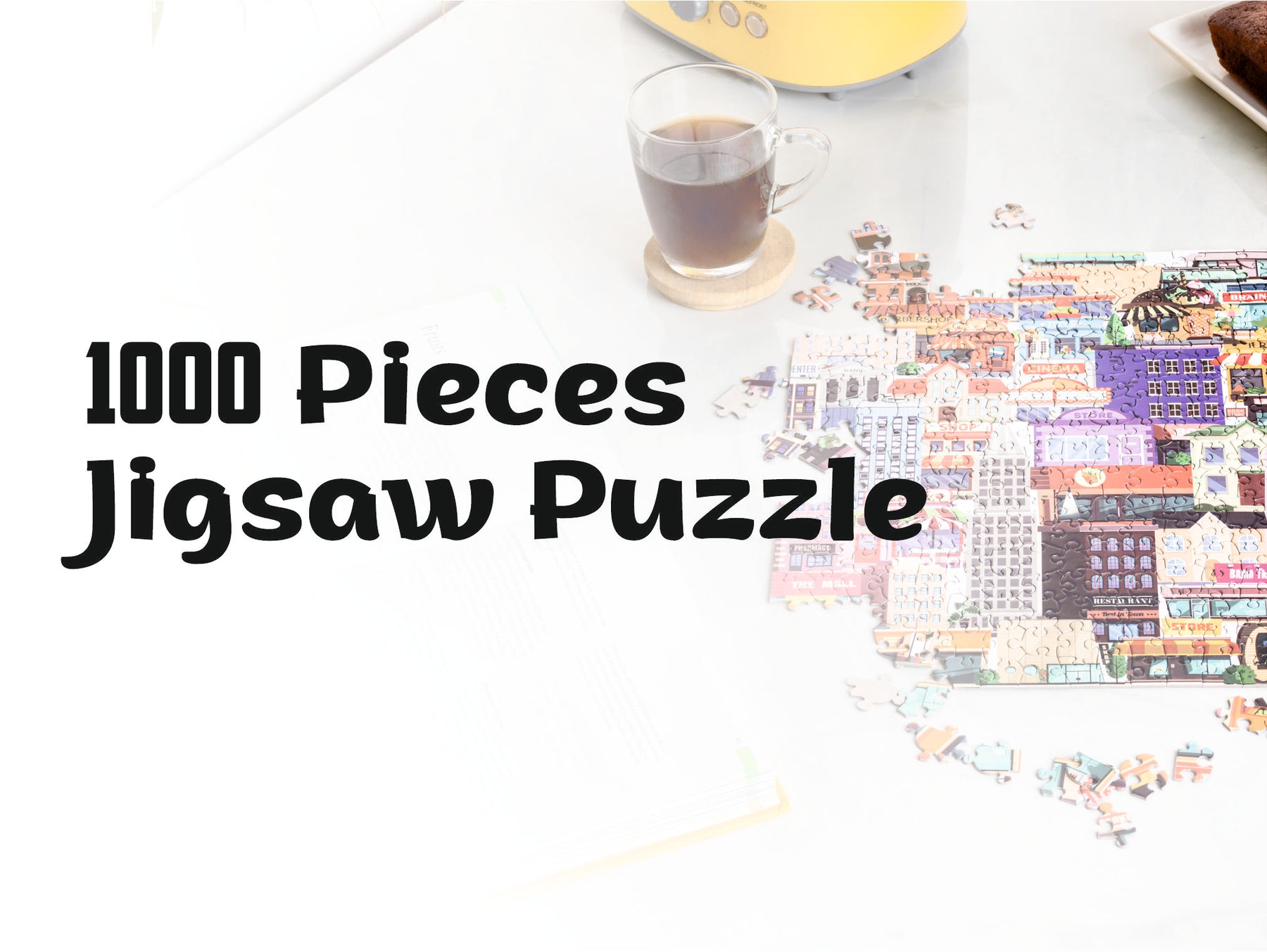 1000 Piece Jigsaw Puzzles To Put Your Mind To Test
Puzzles not only help you enhance and sharpen your cognitive abilities, but they also assist your children to develop their motor and concentration skills, increase memory in adults, and avoid diseases like Alzheimer's and dementia. Solve the finest 1000 piece jigsaw puzzles if you're seeking a constructive diversion and a means to escape the world's craziness.
The best 1000 piece puzzles for adults and kids are created to minimize tensions, improve muscle remembrance in the brain, and provide several unique moments when completed, whether for vacations or to actually spend time with loved ones. Furthermore, unlike simple children's puzzles, most of the 1000 piece jigsaw puzzles can put your logical reasoning abilities as well as other aspects of your mind to the test.
The Advantages Of Buying A 1000 Piece Jigsaw Puzzle
Despite the fact that this article raves about BrainTreeGames' outstanding 1000 piece jigsaw puzzles, it never explains why you should buy one! What good is a puzzle if it prevents you from seeing a movie? To tell you the truth, there are numerous advantages to doing jigsaw puzzles on a daily basis! To name a few, jigsaw puzzles to aid in the following areas, in addition to boosting your intellectual capabilities:
Puzzles Can Help You Improve Your Mental Talents
You must examine individual pieces to understand how they fit into the broader image when putting together a 1000 piece puzzle. If you practice reflective thinking on a daily basis, it will help you with commuting, packing, utilizing maps, and comprehending and executing dance routines.
Completing puzzles might help you relax
Meditation is focusing on a single image for a long length of time without allowing other thoughts to enter your head. Adults can get the same benefits from meditating by doing a jigsaw puzzle. The stress of regular life fades away, leaving you feeling calm and relaxed.
Puzzles Can Help You Improve Your Family Relationships
Solving jigsaw puzzles with your family allows you to bond over the little puzzle pieces as you search for each one, resulting in a work of art full of joy and laughter!
Puzzles exercise both sides of the brain and improve memory
1000 piece puzzles, whether online or in-person, use both the left and right sides of the brain. Consider it a mental workout that will help you enhance your problem-solving abilities and your attention span. When you're working on a jigsaw puzzle, your left brain is logical and operates in a linear fashion, while your right brain is intuitive and creative, and both sides are engaged.
Individual's short-term memory is also improved by 1000 piece jigsaw puzzles. Puzzles improve mental speed, strengthen brain cell connections, and improve short-term memory in particular.
The Finest Jigsaw Puzzles Are Delivered To Your Front Door!
There isn't anyone on Earth who doesn't want to want to relax, enjoy, and refine their daily habits, and solving puzzles is the most fantastic way to do it. Regularly tackling 1000 piece jigsaw puzzles, whether online or offline, is an excellent way to enhance your life. Problem-solving skills, brain training, and stress reduction can all be aided by puzzles. The only thing left is to select the finest 1000 pieces puzzles now that you know how useful puzzles are.
Despite the abundance of options, many people find it difficult to discover high-quality 1000 piece puzzles. This is answered by BrainTreeGames' comprehensive selection of the best 1000 piece puzzles. BrainTreeGames is a five-year-old puzzle manufacturing business. On their website, you'll find a wide variety of great puzzles suitable for both adults and children. Their top 1000 piece jigsaw puzzles are less expensive and yet of comparable quality to the other 1000 piece puzzles on the market.
1000 piece puzzles from BrainTreeGames include a number of distinguishing features that make them the best on the market. The key to uncovering their mystery is to look at how they're made. Furthermore, the quality assurance team that inspects all of their puzzle packages as they leave the factory for delivery to your home adds to the trustworthiness of their puzzles.
But Why Only BrainTreeGames?
As previously stated, BrainTreeGames is a puzzle manufacturing and distribution company with a five-year history that is presently growing in the United States. 1000 piece puzzles from BrainTreeGames will appeal to puzzle solvers and non-puzzle solvers alike. The usage of the Droplet technique, which results in a great matte finish with a crisp touch and feel, is one of the most admirable aspects of BrainTreeGames' 1000 piece puzzles for adults and children alike.
The anti-glare surface, combined with the little waterdrop effect, makes for a great puzzle-solving experience. Each puzzle piece is approximately 1.75mm thick and has a unique form. We perform extensive quality checks at every stage of the manufacturing process to ensure that the final product you receive is of the highest quality.
When you buy 1000 piece jigsaw puzzles from our specialized online store, you're bringing home fascinating puzzles that will ensure a wonderful holiday season spent with your family or alone. These jigsaw puzzles will put you in the spirit of the season! Each will bring hours of celebratory pleasure, with everything from a beautiful fantasy world to stunning locations. In reality, BrainTreeGames works with the best delivery partners to provide its products in the most convenient and hassle-free manner possible.
Furthermore, BrainTreeGames' shipping service, which is available to all consumers in the United States, is a noteworthy feature. The BrainTreeGames customer care team is available to answer inquiries and provide comments 24 hours a day, seven days a week. If the product does not match your expectations, you have the option of contacting the staff and requesting a replacement. So, what's keeping you from picking up one of these incredible puzzles?
Have Faith On BrainTreeGames To Meet Your Puzzle Needs Efficiently
The best 1000-piece puzzles from BrainTreeGames will improve your health and concentration while also adding joy to your house. Whether you're an adult or a teenager, completing Brain Tree Game's puzzles is a fun experience. Our 1000 piece puzzle series is designed with the complexity levels of both age groups in mind to deliver the best puzzle-solving experience.
Our attention to and love for designing amazing puzzles to liven up your holidays and leisure time sets us apart from the competition. Check out our collection of 1000 piece jigsaw puzzles and be wowed by the quality and experience. Our large collection of 1000 piece puzzles will keep you engrossed in the puzzle-solving journey.