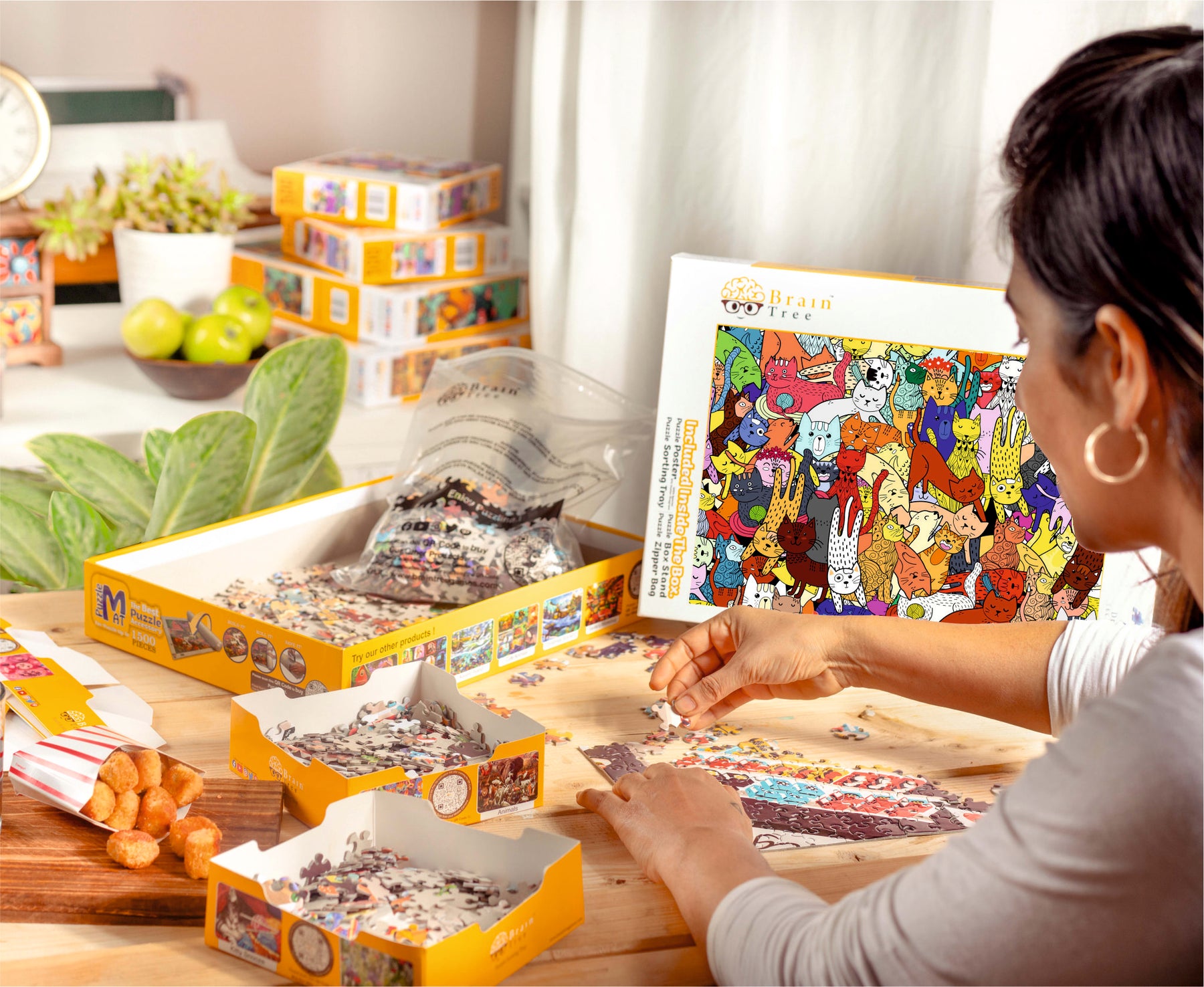 Enhance Your Cognitive Abilities With Best Puzzles for Adults
Growing older is a big source of anxiety for adults. Aging appears to impact people's immune systems, physical appearances, and cognitive abilities. Age has a significant impact on these abilities. What people can do to improve their skills is to complete jigsaw puzzles for adults.

If you're curious, cognitive ability is an overall mental capacity that comprises basic reasoning, problem-solving, planning, abstract thinking, and intricate concept processing abilities, and it's a requirement never to let it deteriorate! By improving the existing connectivity between the neurons inside your brain and body, completing an adult puzzle improves your mind's intellectual processing power and efficiency hence helping in improving these abilities.
As a result, Brain Tree Games is now giving the best puzzle-solving adventure with its unique jigsaw puzzle for adults to provide the best problem-solving experiences to its consumers. Continue reading to learn more about them.
Delivering Premium Jigsaw Puzzles Right To Your Door!
Everyone wants to unwind, enjoy, and improve their daily routine, and the greatest method to do so is to solve puzzles. Completing jigsaw puzzles for adults regularly, whether online or offline, is a fantastic way to improve your life. Puzzles can aid in developing problem-solving skills, brain training, and the reduction of psychological stress.
Brain Tree Games is a puzzle-making business that has been in business for five years. You'll find a wide range of excellent puzzles on their site, perfect for both adults and children. Their best puzzles for adults are cheaper than other adult puzzles in the market and are just as high in quality!
The company has recently declared its expansion into the United States, and anyone looking for a decent jigsaw puzzle should check out their unique online selection. They provide a range of best puzzles for adults to give you a great puzzle-solving experience.
Where Can You Buy Best Puzzles for Adults?
Now that you know how beneficial puzzles are, the only thing left is to find the best puzzles for adults. Despite the plethora of options available, many people find it difficult to obtain high-quality adult puzzles. The complete collection of the best adult puzzles from Brain Tree Games answers this.
Adult puzzles from Brain Tree Games have several unique characteristics that make them the best market. The way they're created is the key to unlocking their secret. The puzzle surfaces are made using an authentic droplet process, which produces a fantastic anti-glare surface with a micro water drop effect for a better puzzle-solving experience. Each puzzle has a unique shape that aids in problem-solving and gives it a personality.
Brain Tree Games has grown to be one of the best-known businesses in the world thanks to the distinguishing characteristics that set it apart from the competition, 
Guaranteed Fast Shipping
One of Brain Tree Games' unique features is its quick delivery for all buyers in the United States. Brain Tree Games has collaborated with the top delivery companies to ensure that your puzzles arrive on time and in good condition.
Premium Quality
As previously stated, Brain Tree Games is known for employing only the highest quality resources. A quality assurance crew inspects all of their puzzle packages as they leave the factory for delivery to your house. 
Outstanding Customer Service
A pleasant user experience is critical at Brian Tree Games. The support team at Brain Tree Games is available 24 hours a day, seven days a week, to answer any issues or make ideas. You can also contact the staff and request a replacement if our products, in any case, do not meet your expectations. 
So, what's holding you back from taking these high-quality, low-cost puzzles home with you?
What Are The Benefits Of Purchasing Puzzles for Adults?
You're probably wondering why, although this article raves about Brain Tree Games' fantastic jigsaw puzzles for adults, it never specifies why you should even consider purchasing one! After all, what good is a puzzle if it doesn't allow you to watch a movie?
Many kinds of research have shown that jigsaw puzzle solvers live longer and have a lower risk of Alzheimer's disease, memory loss, and dementia. In one study, scientists compared the brain scans of 75-year-olds and 25-year-olds and found that the elderly persons who completed puzzles daily had brain scans equal to those of 25-year-olds.
And that's not all. There are many benefits to solving jigsaw puzzles daily! In addition to improving your cognitive abilities, jigsaw puzzles help in:
Improving Mental Capabilities
When putting together an adult puzzle, you must study individual pieces to see how they fit into the overall picture. Your reflective thinking will develop if you do it regularly, which will assist you with commuting, packing, using maps, understanding and executing dance routines, and several other chores.
Relieving Stress
Meditation entails concentrating on a single image for an extended period without allowing other thoughts to enter your mind. Doing a jigsaw puzzle for adults can produce the same results as meditating. The stress of everyday life dissipates, leaving you with a sense of calm and tranquility.
Improving Relationships With Family
Solving jigsaw puzzles with your family helps you bond over the tiny puzzle pieces as you find each one and give rise to a masterpiece of joy and laughter!
Exercising Both Sides Of The Brain
Jigsaw puzzles for adults, whether online or offline, use both the left and right sides of the brain. Consider it a mental exercise that will improve your problem-solving skills and attention span.
When you're completing a jigsaw puzzle, your left brain is logical and works linearly, but your right brain is intuitive and creative, and both sides are active.
Improving Your Memory
Jigsaw puzzles improve short-term memory for adults. Puzzles increase mental speed, build brain cell connections, and are especially beneficial for enhancing short-term memory.
Conclusion
No one should have to overspend to receive the same high-quality products for a lower cost. The best features of our puzzles have already been demonstrated. With the added benefit of enhancing your cognitive talents, Brain Tree Games'
puzzles for adults
becomes even more essential.
The puzzles are not only inexpensive, but they also promise to improve your concentration if you include them in your routine. Take advantage of this chance to sharpen your mental abilities. Brain Tree Games' best puzzles for adults can undoubtedly provide delight to your life.