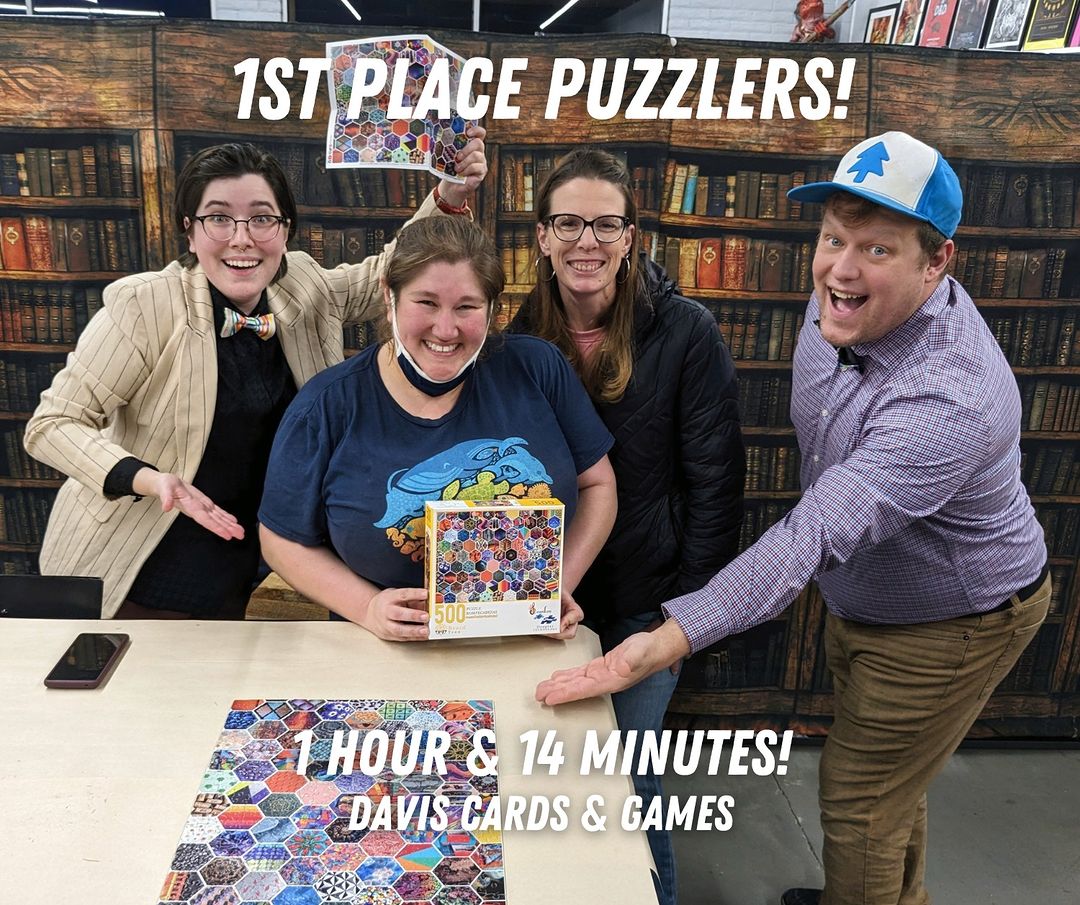 Discovering the Thrill of Puzzle Challenges at a Mother-Daughter Owned Store in Davis, CA
Introduction: Puzzles have been a source of entertainment and challenge for people of all ages for centuries. Whether it's a solo endeavor or a group activity, puzzles have the power to bring people together, spark creativity, and stimulate the mind. That's why at Brain Tree Games, we are always delighted to see our puzzles being used in creative and innovative ways. That's why we were thrilled to hear about the recent puzzle challenge held by one of our retailers, a mother-daughter owned store in Davis, CA. ( Davis Cards and Games )
Davis Cards and Games : The store, located in the heart of a diverse college town with a large student population, has been in business since 2016. The store is one of the few mother-daughter owned stores in the United States, and its owner, Gretchen, had the idea to open the store in Davis, CA, and has been serving the community with unique and high-quality games and puzzles ever since. The store offers a wide selection of games and puzzles to suit every age and interest, making it a one-stop-shop for all your gaming needs.
The Puzzle Challenge: The Davis Cards and Games store recently held a fun-filled puzzle challenge limited to 8 teams of 2 players, and it was a huge success. The store chose Brain Tree Games' 500-piece puzzle, which was perfect for the event. The store created a fun and competitive atmosphere by limiting the number of teams and offering a $50 gift card to the winning team. Each team got to keep the puzzle, making the challenge even more exciting and meaningful. The store was so pleased with the turnout that they have decided to hold 2 of these events a month, with the next one already sold out.
The Benefits of Puzzle Challenges: Puzzle challenges are a great way to bring people together, stimulate the mind, and promote teamwork. They are a fun and competitive alternative to traditional trading card games, making them accessible to people of all ages and interests. The thrill of competition and the satisfaction of completing a puzzle make these events a memorable and enjoyable experience. The fact that the Davis Cards and Games store has decided to hold 2 of these events a month is a testament to their popularity and success.
Conclusion: The puzzle challenge at the mother-daughter owned Davis Cards and Games store in Davis, CA, is a testament to the thrill and excitement that puzzles can bring. We are proud to be a part of it and can't wait to see what other fun challenges our retailers will come up with next. If you're in the Davis area, be sure to stop by the store and check out their impressive selection of games and puzzles. And, if you're looking to host your own puzzle challenge, consider Brain Tree Games' 500-piece puzzle, a perfect option for group activities and competitions. Whether you're an experienced puzzler or a first-timer, puzzles are an enjoyable and rewarding experience that everyone should try.
Store Details :
Davis Cards & Games
1790 E. 8th Street            
Davis, CA  95616