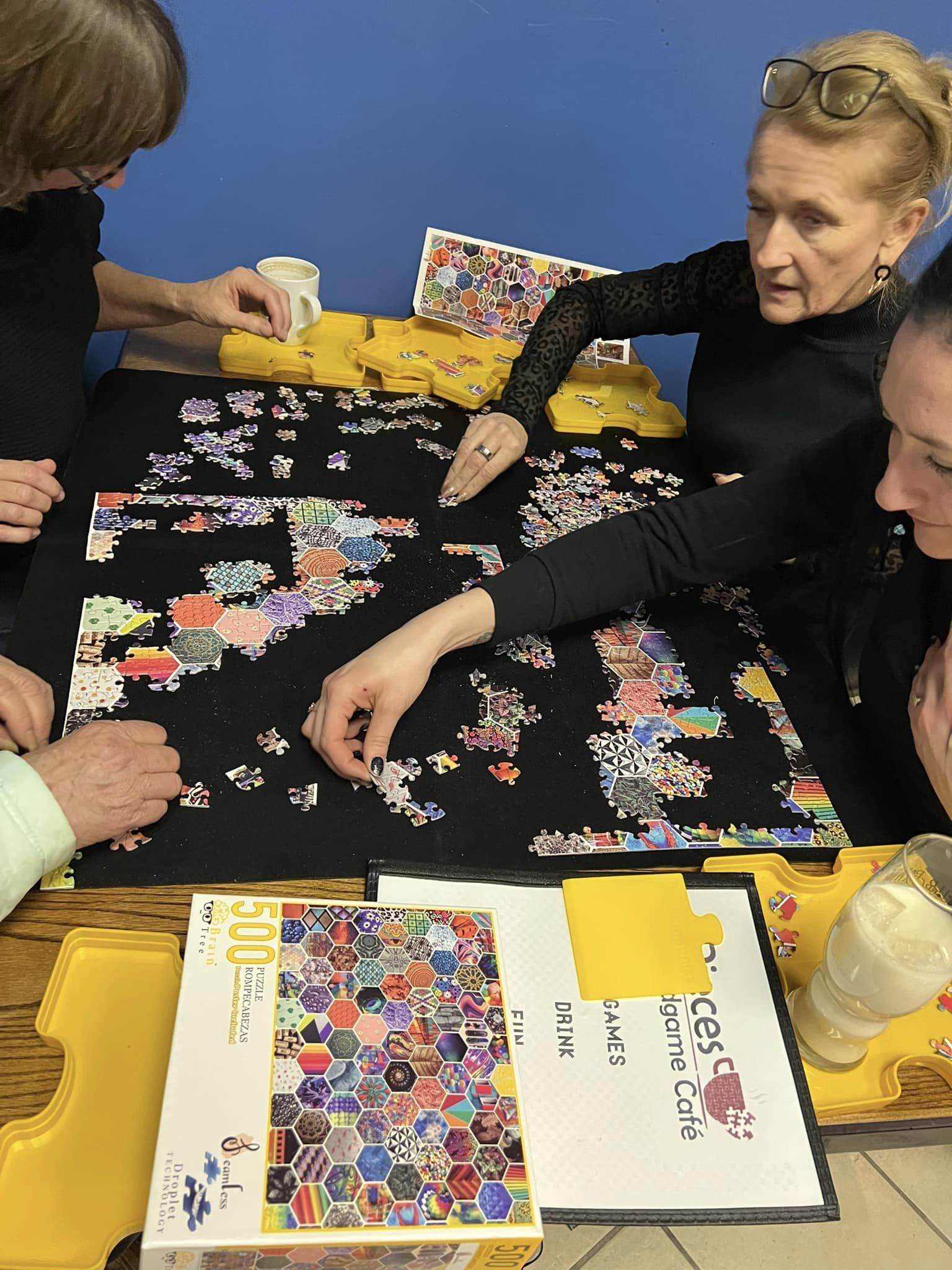 The Exciting World of Puzzle Races: A Look Inside the Amazing Puzzle Challenge at Pieces Cafe
"Unleash Your Inner Puzzler with the Thrilling Puzzle Races at Pieces Café in Trenton, Ontario
Are you looking for a unique and exciting experience that will challenge your mind and bring out your competitive side? Look no further than Pieces Café in Trenton, Ontario, where every month, groups of up to four can participate in a pulse-pounding puzzle race, featuring puzzles from our own Brain Tree Games.
From the moment you step into Pieces Café, you'll know you're in for a treat. With over 500 games to choose from, this café offers something for everyone, whether you prefer playing on the premises or taking the fun home with you. But the real highlight of Pieces Café is its monthly puzzle races, where teams compete to see who can solve the puzzle the fastest.
The puzzle races at Pieces Café began in 2019 when the café first opened in Belleville and quickly became a hit. Despite the temporary closure due to the pandemic, Pieces Café has since reopened in Trenton and continues to offer these exciting events.
Here's how it works: teams register online and then arrive on the day of the event to find they've been given the same puzzle as eight other groups. With puzzle pieces spread out on tables, the race is on. But there's a twist: the café's owner periodically stops the action to run fun mini-games, similar to "Minute to Win It," to distract and slow down the fastest puzzlers. It's a unique and exciting twist that makes the puzzle races at Pieces Café stand out from the rest.
Every month, Pieces Café offers different puzzle challenges, ranging from 500 pieces to 1000 pieces. The races are so popular that they usually sell out within 72 hours of being put online. The winners receive prizes, and the winning puzzle is displayed with the team's signatures on the wall for everyone to see.
In addition to the puzzle races, Pieces Café also offers a fully licensed bar where patrons can enjoy a cocktail or beer, as well as a selection of snacks, sandwiches, candy, and ice cream. It's an all-inclusive night of entertainment, food, drinks, and memories waiting to be made.
At Brain Tree Games, we're proud to see our puzzles being used in such a fun and creative way. If you're looking for a unique and thrilling experience, we encourage you to visit Pieces Café in Trenton, Ontario, and participate in one of their puzzle races. You're guaranteed to have a blast!"
More Details :
Website : https://piecescafe.com/
Email : pieces12@bellnet.ca
call @ 289-253-7469
So, are you ready to put your puzzle-solving skills to the test? Try one of our Brain Tree Games puzzles today and experience the thrill of piecing together a challenging and satisfying puzzle. Whether you're a seasoned puzzler or a beginner, we have a puzzle that's perfect for you.