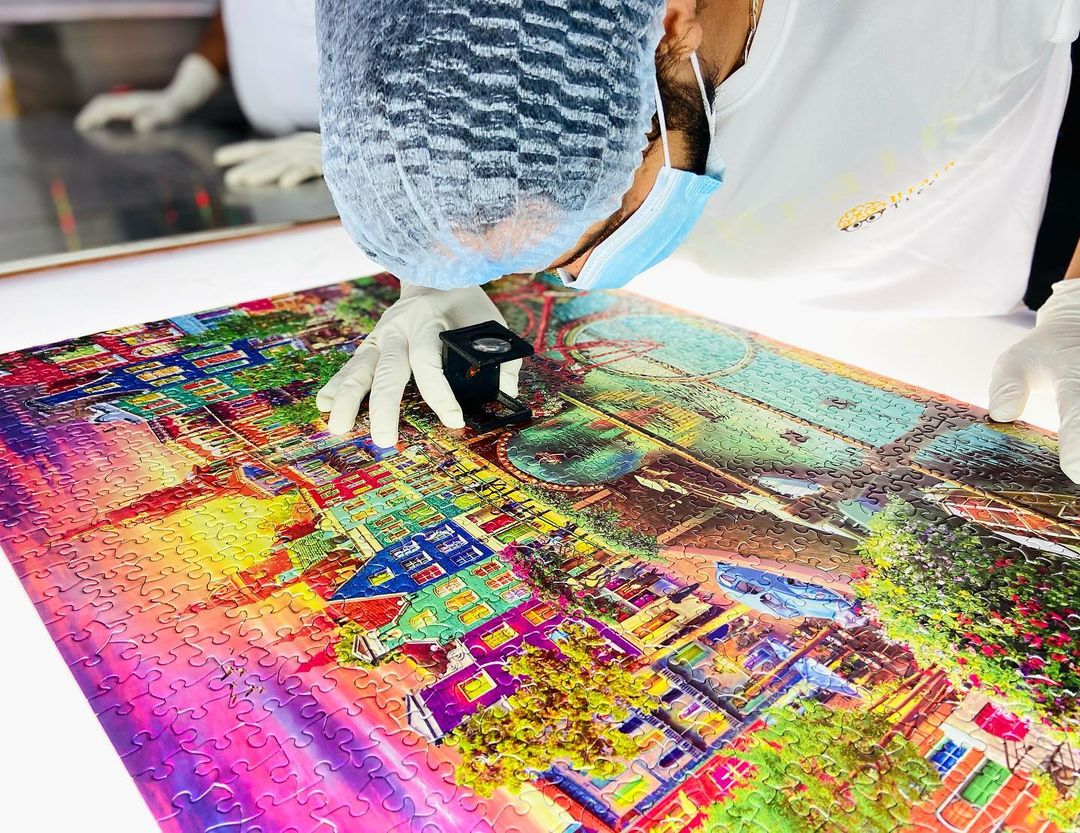 Unlock the Fun of Random Cut Jigsaw Puzzles
Welcome to the fantastic world of crazy random cut puzzles! Our crazy-shaped pieces add much detail to the standard jigsaw puzzle. The quirky shapes are a getaway from the known patterns of a ribbon-cut puzzle.
What's the difference between them? A ribbon-cut puzzle has pieces all of the similar or identical square shapes that line up in neat columns and rows, creating a grid pattern as we know. A random cut puzzle is a bit different. The pieces can be fat, short, long, skinny, round, and when the puzzle is finished, it usually has a different pattern. You may even find yourself amazed by the different shapes. Look at all those crazy pieces. Aren't they crazy fun? Get lost in a fantastic adventure today!
With Brain Tree Games puzzles, you can feel confident that you're choosing quality time for yourself and your beautiful family. Our team of puzzle experts has spent many hours searching and researching for the most attractive images to bring to life. We look into the use of the finest inks and quality varnishes, creating a nice crisp image. The random cut pieces add an element of surprise. We use a new drip-off technology which is a very unique and effective way to reduce glare from artificial light.
Our hectic daily jobs keep us from taking time out for ourselves to calm down and enjoy the company of our loved ones in the family. It's time to bring back the quality time you need together. Turn off the smartphone and rethink the missing piece in your life. Brain Tree Games offers a large selection of quality images that bring back days of old profound memories, colorful images to inspire your beautiful imagination, and blissful scenes that help you escape, all at your comfort home.
You can choose vast collections of puzzles from Brain Tree Games stock such as puzzles for adults, 1000 piece puzzles, 500 piece puzzles etc. All these puzzles are available in USA at budget friendly price range.
We have quite unique collections of jigsaw puzzles for you: Christmas Puzzles American Puzzles Holiday Puzzles Animals Puzzles etc. If you are searching for best jigsaw puzzles online then Brain Tree Games is the perfect place for you.
Learn the Difference The difference between random and ribbon cuts is, well, the shape of their cuts. Random cut jigsaw puzzles are cut into pieces of every shape and size with almost no uniformity except the flat edge of the border. They fit together randomly, as their name suggests, so you can construct the puzzle in different sections instead of a specific order.
Ribbon cut jigsaw puzzles are cut into similar shapes reminiscent of squares or rectangles. They're mostly uniform and can even fit together in rows along a grid pattern, so you can construct the puzzle from top to bottom or bottom to top.
Pick Your Preference Picking between random and ribbon cut will come down to personal preference. Both can be challenging for some and easy for others. The irregularity of random cut can be difficult for some puzzlers, especially since this cut can make it more difficult for pieces to fit together. On the other hand, ribbon cut puzzles can be challenging when there are many pieces of the same color. Discerning the different regions and how the pieces all fit when they're all so similar can be difficult.
Decide what type of puzzle experience you're hoping to have and pick your puzzle cut based on that decision. If you're looking for a challenge, pick whichever cut is more difficult for you. If you're looking for a fun family experience or a casual hobby, choose the easier cut.
Start Your Puzzle Experience There are some basic puzzle principles to play by, whether you